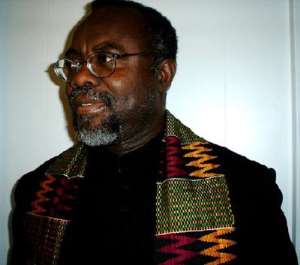 In the wake of Mrs. Helena-Ritz Fathia-Nkrumah's passing in Cairo, Egypt, on May 31, 2007, and the according of a State Burial to the first former Ghanaian First Lady by the Kufuor-led New Patriotic Party government of Ghana, an opinion piece, which was originally published in the East African Standard newspaper, based in the Kenyan capital of Nairobi, appeared on the website of Ghanaweb.com on June 13, 2007. The author of the article, whose name was not published in the version that appeared on Ghanaweb.com, was simply described as the Deputy Director of the UN Millennium Campaign in Africa. The writer's decision to maintain anonymity has several interesting implications, not the least of which includes the dire need not to expose his/her nationality, which may well have remarkably undermined the ideological thrust of his/her argument.
Titled "Nkrumah's Widow Dies a Neglected Ex-First Lady," the article mordantly indicted Ghanaian governments that had ruled the proverbial roost since the African Show Boy's landmark overthrow by the National Liberation Council (NLC) on February 24, 1966. In the main, the writer of the aforementioned article sarcastically observed: "As [is] to be expected, all kinds of tributes have poured in from all corners, including people and institutions that have never cared [about] what became of her [i.e. Mrs. Nkrumah] and her three children since Nkrumah died. Many conspicuous mourners did not even realize that Fatiha [had been] alive all these years.¶ The worst of the hypocrites is Government. Those in power had the power, if the will was [also] there, to have honored Fatiha, recognized and provided for her and her family. But successive Ghanaian governments pursued a policy of benign neglect, outright hostility or opportunistic association and gestures towards the family" (Ghanaweb.com 6/13/07).
The problem with this kind of self-righteous tirade and abject mischaracterization of the historical reality is that it is unmistakably pedestrian. For, needless to say, the children of such equally illustrious Ghanaian statesmen as Dr. J. B. Danquah, Messrs. Obetsebi-Lamptey and Koi Larbi also could eloquently detail and readily retail a strikingly similar narrative. And here, too, we must hasten to point out the fact that Mrs. Fatiha Nkrumah, as the writer preferred to spell the name of Ghana's former First Lady, was very fortunate to have been accorded a State Burial and, oh yes, even in death!
In the apocalyptic case of Dr. Danquah, the putative Doyen of Gold Coast and Ghanaian politics, as well as being the patriarch who renamed the Gold Coast as Ghana, the royal Ofori-Atta Clan was given a mere six (6) hours by then-President Nkrumah to arrange funeral and burial services for the man who almost single-handedly drafted the last three constitutions that ushered Ghana into her postcolonial dispensation. In the flabbergasting and morally untenable case of Mr. Obetsebi-Lamptey, who perished together with Dr. Danquah at the infamous Nsawam Medium-Security Prison, under circumstances that have been plausibly described by expert investigators and scholars as being akin to outright assassination, legend has it that this honorable member of the celebrated BIG SIX, or Founding Fathers of modern Ghana, was interred alive on the express instructions of then-President Nkrumah.
Needless to say, those of us who have been vigorously campaigning for the University of Ghana, which he also founded, to be aptly named after Dr. J. B. Danquah, in much the same manner that the former Kumasi College of Technology was recently renamed for Kwame Nkrumah, it, almost undoubtedly and quite curiously, would appear to be far, far easier were the "Danquah-leaning" government of President John Agyekum Kufuor to be prevailed upon to rename the University of Ghana for Mrs. Fathia Nkrumah!
And here, also, it bears pointing out the fact that it curiously appears to those of us who claim both ideological and/or biological descent from Dr. Danquah that, perhaps, President Kufuor, as Chairman of the African Union (AU), finds it far more convenient and appropriate and, even, outright decorous to generously extend his blessings to such pseudo-democratic African leaders as Nigeria's President Umaru Yar'Adua and even Libya's President Muammar El-Qaddafy, than promptly and conscientiously move Ghana's National Assembly to duly recognize the immense contributions of the Doyen of Modern Ghanaian Politics by having the University of Ghana properly renamed the J. B. Danquah University of Ghana.
In essence, even as the recently deceased Nkrumah minion Mr. Kwesi Armah noted a little over nine years ago, while keynoting a graduation ceremony at the Ghana National College in Cape Coast, had it not been for the singular and seminal instrumentality of Dr. J. B. Danquah, the Gold Coast Cocoa-Marketing Board, whose massive currency, or monetary, reserves the African Show Boy liberally expended on his ambitious pan-Africanist projects, would not have operated, or functioned, in the manner that it did under the British colonial administration.
And while quite a number of us are unreservedly elated to, at long last, witness the honoring of the BIG SIX on the latest re-denominated Ghanaian monetary currency, still, we would have been far more elated if each of the BIG SIX had had their portraits etched on separate currency notes, rather than the current rather busy and almost esthetically indecipherable form.
And now getting back to the question of the purported neglect of Mrs. Helena-Ritz Fathia-Nkrumah; indeed, it may be of remarkable interest for the writer of the article titled "Nkrumah's Widow Dies a Neglected Ex-First Lady" to learn that in 1978, when her husband was duly honored by the New York City-based United Nations Organization (UN), for Nkrumah's dedicated and seminal efforts at eradicating the pernicious political culture of Apartheid, Mrs. Helena-Ritz Fathia-Nkrumah was accompanied to the ceremony by then-Ghanaian Foreign Minister Colonel Roger Joseph A. Felli. In other words Mrs. Nkrumah was then resident in Ghana and was being cared for by the Acheampong government.
Needless to say, Colonel Felli would, barely a year later, be brutally executed by the so-called Armed Forces Revolutionary Council (AFRC) junta, led by Flt.-Lt. Jeremiah John Rawlings, on June 16, 1979. Colonel Felli, it is significant to note, was only 38 years old!
The significant aspect of the preceding two paragraphs, however, regards the verifiable fact that Colonel Ignatius Kutu Acheampong, chairman of the so-called National Redemption Council (NRC), which ousted Dr. Kofi Abrefa Busia's democratically elected Progress Party (PP) government in a bloodless coup, had actually returned Mrs. Fathia Nkrumah to Ghana and even built a modestly stately residence for her and her three children. Legend, indeed, even has it that then-Colonel I. K. Acheampong had even made private arrangements to return President Nkrumah to power but for the latter's untimely death by cancer. In any case, the question of whether it would have been, at all, intelligent to return the old disgraced dictator to power may aptly be deemed as a moot question.
In sum, therefore, if any Ghanaian leader deserves to be singularly and squarely blamed for the purportedly abject neglect of Mrs. Fathia Nkrumah, it is Flt.-Lt. Jeremiah John Rawlings and his so-called Provisional National Democratic Congress (P/NDC). Indeed, it must have been her keen and apt and acute sense of imminent danger in the wake of Mr. Rawlings' adventurist intervention in postcolonial Ghanaian politics, on June 4, 1979, that promptly informed Mrs. Nkrumah and her young family of the imperative necessity to vacate her residence and hurriedly depart from Ghana altogether!
On the preceding score, therefore, it came as rather ironic to have recently witnessed Mr. Rawlings, his wife and the P/NDC's candidate for president of Ghana in the 2008 general elections, Professor John Evans Atta-Mills, confidently and almost morally self-righteously signing the book of condolence at the Kwame Nkrumah Mausoleum, in Accra, on June 12, 2007, exactly 28 years, almost to the day, of Mr. Rawlings causing Mrs. Nkrumah to, literally, go into permanent exile.
Needless to say, it would also be quite interesting to learn from Mr. Rawlings, exactly what the self-proclaimed "Arch-Enemy" of Ghanaian democracy did for Mrs. Fathia Nkrumah, even as Mrs. Rawlings, having assisted her husband in summarily destroying private Ghanaian entrepreneurship, proceeded to shamelessly acquire proprietorship of the landmark Nsawam Cannery, which was built by Nkrumah's Convention People's Party (CPP) regime.
Indeed, the perennial problem of familial neglect of great statesmen and stateswomen is a pervasive and global one, as well as inescapably human, as this writer adumbrated earlier on in this article. For instance, the children of Mr. John Mensah-Sarbah, the first modern Ghanaian lawyer and firebrand activist of indigenous Ghanaian land-rights, could probably have told an even far more gut-wrenching story than the Fathia Nkrumah narrative. Needless to say, it also did not help that President Nkrumah, shortly before his landmark overthrow, had crafted a will, or death-wish, that made Ghana almost seem like his personal property (see Peter Omari's Kwame Nkrumah: The Anatomy of an African Dictatorship, particularly the "Appendix" to the latter treatise). In sum, contrary to what the author of the East African Standard opinion piece would have his/her international audiences beleive, at least in Ghana, the problem of Fathia's purportedly abject neglect is half-Scottish!
*Kwame Okoampa-Ahoofe, Jr., Ph.D., teaches English and Journalism at Nassau Community College of the State University of New York, Garden City. He is the author of twelve books of poetry and essays, including "Dr. J. B. Danquah: Architect of Modern Ghana" (iUniverse.com, 2005). E-mail: [email protected]