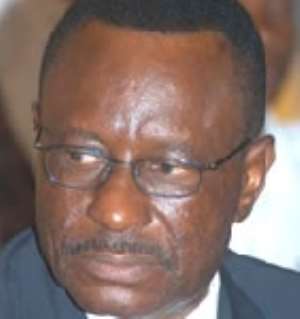 Unabated street hawking in the major ceremonial streets of Accra has compelled the Accra Metropolitan Assembly to introduce mass weekend hawking for petty traders, who have little capital to acquire stalls.
The Assembly's plan, which is often referred to as "Market Days," already exists in some major towns across the country. However, this proposal will have to be ratified by the whole Assembly.
Stanley Nii Adjiri Blankson, Accra Mayor, announced this yesterday to the media, when he met officials and some Assemblymen to deliberate on some pertinent issues.
According to him, nowhere in the world are built specifically for hawkers, pointing out that what exists elsewhere are street markets, where specific streets are earmarked for buying and selling under rules and regulations.
Mr Adjiri Blankson reiterated that the assembly could not find markets for all hawkers in the metropolis, hence the proposal to select either Saturday or Sunday for street hawking.
Against this backdrop, he warned that AMA is set to permanently remove all structures erected at unauthorised places.
A rolling decongestion exercise embarked upon in 2005 by the Assembly was briefly successful in clearing the streets of hawkers, but many hawker have returned to the streets. The Mayor believes the best way of dealing with the issue is to designate certain days as 'free days" for hawking, with special arrangements made for cleaning up afterwards.
Touching on the flooding at the Pedestrian Shopping Mall at Odawna near Kwame Nkrumah Circle, the Chief Executive stated that the area needs reclamation, admitting that at least the AMA knew of the potential flooding should heavy downpour occur.
That is why certain area within the Mall was left open for traders to display their wares instead of erecting structures, he told the press.
According to flood experts, the activities of the hawkers contributed to the flooding at the Shopping Mall. In addition, AMA has accused the engineers and the contractor who constructed the Odaw drains for making a fundamental mistake which has led to the persistent flooding at the market.
The AMA Chief Executive did not leave the building inspectors out and warned them of stiffer punishment if they are caught compromising their work, saying, "for once let's begin to serve the city of 5 million people."
"We tend to be bad people, anybody who tries to do good things in the assembly is tagged a bad man. Let's maximise our efforts," he charged the officials.
On the measures taken by AMA to check indiscriminate building of structures, Mr Adjiri Blankson disclosed that the assembly has requested for over 150 personnel from the National Service secretariat to serve as building inspectors, quantity surveyors and other support services to help streamline the situation.
He said time has come for the assembly to "bark and bite hard" and appealed to the general public to cooperate with the AMA in its effort to properly manage the city.