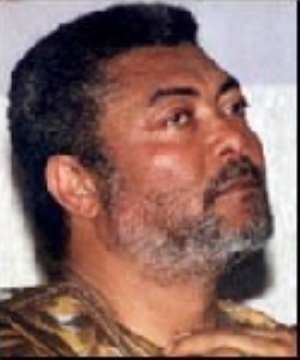 Former President Jerry Rawlings has warned against any rigging of the 2008 elections by the ruling NPP government.
He has therefore asked the military to prepare to prevent any such moves.
He was speaking at a forum at Somanya in the Eastern Region organised by a group calling itself the United Cadres Front, to mark the 28th anniversary of the June 4, 1979 coup.
The United Cadres Front seeks to unite activists of the June 4th movement.
Rawlings accused the government of corruption and arrogance and said it was perpetuating the very situations that gave rise to the June 4 uprising.
The United Cadres Front says a revival of the June 4th 1979 principles of probity and accountability was the only way to rid the country of corruption.
The group said it was concerned over the extent of corruption in the country which it explained, was due to the failure of citizens to hold government accountable.
Speaking to Joy News on the occasion of the 28th anniversary of the June 4 revolution, the National Chairman of the United Cadres Front, Kwame Abonie said the principles of the revolution were still relevant today.