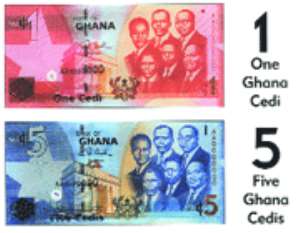 As from July 1, Ghana is not just going to celebrate its Republic Day, the money we all use for paying our 'trotro' fares, buying books, sweets, dresses, shoes, bags, food and paying fees is going to change but the value would be the same.
That means both the coins and notes would come in various values, colours and pictures.
This money would be called the new Ghana Cedis (GH¢). It will be in circulation together with the old notes (¢1,000, ¢2,000, ¢5,000, ¢10,000, ¢20,000 and all coins) until the end of December.
The new notes are in one, five, 10, 20 and 50 cedis denominations (value), while the coins are in one, five, 10, 20 and 50 pesewas. There is also a one cedi coin.
There would be no change in value, as ¢10,000 would be exchanged for one new Ghana cedi.
All the notes have the group picture of the Big Six (Dr Kwame Nkrumah, Ebenezer Ako-Adjei, Edward Akufo-Addo, Dr J. B. Danquah, Emmanuel Obetsebi-Lamptey and William Ofori Atta) on the front against the backdrop of the Independence Arch, with seven key security features.
The new notes have additional security features that would make counterfeiting (faking it) virtually impossible.
The back of the one-cedi note has a picture of the Akosombo Dam, while the five-cedi note has that of the University of Ghana, Legon. The back of the ¢10 note has a picture of the Bank of Ghana building, while the ¢20 note has the Supreme Court Buildings.
The picture of the Christianborgs Castle, the seat of government, is at the back of the ¢50 note.
The front side of the one-cedi coin has the scale of justice, the 50 pesewas coin has a market woman, while the 20 pesewas coin depicts a spilt cocoa pod.
The 10 pesewas coin has a book, while the five pesewas coin has a horn blower. The one pesewa coin has the picture of the Adomi Bridge. All the coins have the country's Coat of Arms at the back.
The reason for the re-denomination of the cedi is to simplify the accounting system, which the Governor of the Bank of Ghana, Dr Paul Acquah, explained was getting out of hand.
Additionally, the volume of money would be less difficult to carry around for people to transact their business without attracting thieves or robbers.
Story by Hadiza Nuhhu-Billa