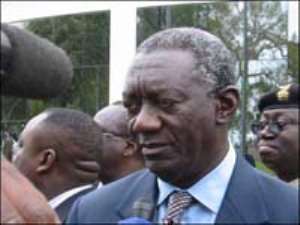 President John Agyekum Kufuor has conferred with the Chief Executive Officer (CEO) of the New Partnership for Africa's Development (NEPAD), Professor Firmino Mucavele.
This was to update the AU Chairman on concrete activities planned to attract investment for growth of the Region in the areas of agricultural infrastructure, health education and gender at the upcoming meeting of the African Partnership Forum and the Group of Eight Industrialized Nations (G-8) to be held in Berlin.
Attending the briefing session at the Castle, Osu was Mr John Kayode Shinkaiye, Chief of Staff, Bureau of the Chairperson, AU Commission.
Professor Mucavele and other high ranking officers of the NEPAD Implementation Steering Committee have for the past two days been meeting in Accra for this purpose.
He informed President Kufuor that they additionally, considered the best ways to carry out the integration of NEPAD into the AU structure, and the harmonization and synchronization of the activities of the two institutions.
The CEO said they also worked together on a composite development agenda to be submitted to the AU Heads of State and Government Summit, slated for Accra in July, this year.
Peace, security and climate change were the other areas that took centre stage and decisions reached would be shared at the Summit.
President Kufuor said the institutions the two officials represented were expected to be working with him on monthly basis to review trends and progress the AU was making.
Source: GNA