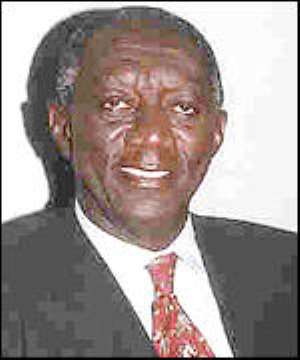 President Kufuor has repeated his innocence in the events leading to the death of the Overlord of the Dagbon Traditional Area, Ya-Na Yakubu Andani II and some of his elders.
Speaking at the palace of the Regent of Gukpe-gu Ziblim Abdulai, President Kufuor said he has not rested since the Dagbon crisis.
President Kufuor who is on a two-day visit to the northern region to assess the extent of the damage caused by last weekend's rainstorm expressed regret that the murder of the Ya-Na has sown mistrust between him and some of his Dagomba friends.
Ya-Na Yakubu Andani II and forty others died on March 2002.
Joy News' Mahama Shaibu reports that President Kufuor called on Ghanaians to "begin to trust each other and find a way forward for Dagbon."
"I am waiting for the day when God in his wisdom would expose those who committed the crime," he declared.
The President's comment followed an apology by the regent regarding the inability of the Andani family to visit him to show their gratitude for his role in the burying of the Ya-Na.
Regent Ziblim Abdulai thanked the President for the numerous projects being carried out in the region and called for more.
He asked President Kufuor to consider renovating the Tamale Teaching Hospital which is in dire need of help.
In response, President Kufuor said the government has signed a 45 million euro contract with the Dutch government to rehabilitate the hospital. He disclosed that the hospital needs about 70 million dollars to have a facelift.
President Kufuor who described the hospital as a disgrace blamed successive governments for allowing it to degenerate to that level.
He chastised the Tamale concerned citizens for embarking on a demonstration describing it as a pretence march conducted to score political points.