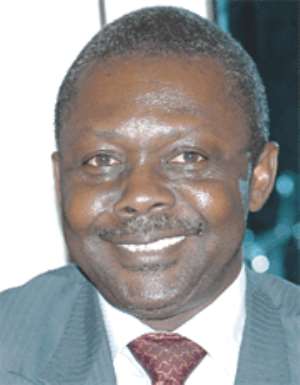 The Internal Revenue Service (IRS) will this year introduce a new product to expand the country's tax base.
Known as the Income Tax Verification (ITV) sticker for private vehicles, the initiative will be enforced by the police.
It will also help to ensure a fairer distribution of the tax burden, which currently is borne largely by employees in the formal sector and companies.
IRS Commissioner, Major Daniel Sowa Ablorh-Quarcoo, (retd) announced this in Accra yesterday at the launch of the Third Revenue Week which is on the theme, "Promoting Understanding of Income Taxation."
He said under the ITV system, all individuals who owned vehicles would be assumed to be income earners, noting that vehicle owners and users would have to prove their tax compliance by obtaining and displaying ITV stickers on their vehicles.
"The Driver and Vehicle Licensing Authority (DVLA) shall not register or examine any vehicle for the issuance of road worthiness certificate without the production of an ITV sticker by the owner," he added.
Major Ablorh-Quarcoo warned that the violation of the ITV system shall carry sanctions and penalties.
He indicated that the Revenue Week placed emphasis on the filing of tax returns for the mutual benefit of both the tax filer and the administrator.
He noted that over the years it had been realised that Ghanaians generally did not file their tax returns, although the law enjoined all taxpayers to do so by the end of April each year.
The Revenue Week, he said, was thus to galvanise taxpayers to take their tax obligations more seriously than is the case in the current situation.
To further broaden the tax net and ensure fairness to those already in the tax net, the commissioner said his outfit had established an institutional linkage with the Registrar General's Department to obtain data on all businesses registered in the country on a monthly basis.
He added that the IRS would link up with the Ghana Community Network (GC Net) system to enable the service to obtain information on imports into the country to be sent to the districts to enable it to track importers who might not have registered with the service.
As part of measures to improve service delivery in the country, the IRS boss said the organisation had established a new division, known as the Quality Assurance and Compliance Division (QACD), which was charged with the primary objective of promoting efficiency and effectiveness in the assessment and collection of taxes.
Story by Sebastian Syme