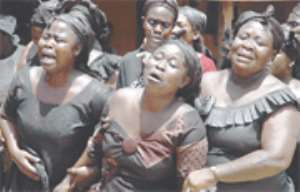 The number of suspects arrested so far in connection with the murder of the Administrator of the Government Hospital at Atronie, Mr Anthony Yeboah Boateng, has risen to 64.
That followed the arrest of 48 more people by the Sunyani police yesterday. Sixteen others were rounded up on Tuesday.
Last Easter Sunday, Mr Yeboah Boateng was murdered in cold blood by a group of young men on suspicion that he was part of a gang involved in alleged serial murders in the area.
Until his death, Mr Yeboah Boateng, 38, was also the Presiding Member of the Asunafo North District Assembly and Vice-President of the Cathedral Church Council of the Goaso Diocese.
A police source at Sunyani told the Daily Graphic that the large number of the suspects had compelled the police to put the suspects in police cells outside Sunyani.
The source said screening would be carried out to establish those who actually took part in the act.
It explained that the move had become necessary because in such mob actions, there was the likelihood of arresting innocent people.
At the time of going to press, the 16 suspects who were arrested earlier were yet to be put before Court.
However, the source said everything was being done to arraign them to beat the 48-hour mandatory period for holding suspects in police cell.
Meanwhile, the Brong Ahafo Regional Security Committee (REGSEC) has condemned the murder and appealed to the general public, especially the youth of Goaso and its adjoining towns and villages, to remain calm and not to do anything that would breach the peace while the security services continued their investigations.
"We wish to appeal to members of the general public who may have information on the persons involved in the murder or may wish to volunteer information on the incident to contact the nearest police station," a statement issued by the committee said.
It extended its condolences to the bereaved family, the Asunafo North District Assembly and the Ghana Health Service.
The Roman Catholic youth at Goaso have also condemned the murder of Anthony Yeboah Boateng last Sunday, and called on the police to act swiftly.
A statement issued by the Goaso Diocesan Catholic Youth Council at Goaso said the council, particularly the executive, "is completely devastated by this barbaric and wicked act purported to have been committed by the youth of Atronie town".
The statement, called on the police to widen the scope of their investigation and pursue every lead which might emerge in the course of the investigation into the matter.
It appealed to the general public, especially the Catholic youth at Atronie, to lend their support to the police in their search for the alleged murderers.
The youth expressed their sympathy to Mrs Yeboah-Boateng, who was herself assaulted during the incidence, and the family, as well as the Catholic fraternity for the untimely death and painful loss of such a loving husband, father and church member.
Story by Kwame Asare Boadu