Shoddy jobs to cost contractors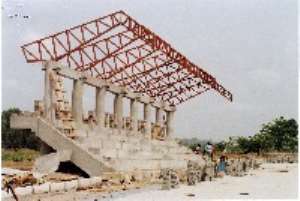 Contractors engaged by the [email protected] Secretariat to construct Jubilee Parks across the country as part of the golden jubilee celebrations could pay dearly if found to have done shoddy works.
The Consultant to the nationwide project, Mr. S. O. Afram disclosed this during the handing over of the Takoradi Jubilee Park from the contractual firm, Kendicks Constructions headed by Mr. Dickson Atta Nketsia to the Western Regional Coordinating Council (WRCC).
According to Mr. Afram, his outfit was embarking on a nation-wide inspection tour of the projects to ascertain the level of work done by the contractors.
The tour, according to him, was aimed at ascertaining among other things, the performance of the contractors in the course of the execution of the projects.
He hinted that the contractors could be taken on if any defects were ascertained in the execution of the said project.
Mr. Afram hinted that in one of the Regions he failed to name, work done by a contractor was poorly executed resulting in a poorly constructed building that did not conform to the standard the Secretariat had set.
However, according to the Consultant, the Takoradi and Wa projects were so far the best with regards to the quality of work done.
He said the Takoradi project had met the practical completion deadline, which was 1st of March, 2007, hence the handing over of the project.
He said in spite of the inspection of the Takoradi project and approval of the quality work done, the same project would be inspected again come September this year at a 'guarantee period'. Other approved projects in other regions would also be inspected after the work done on the project had been approved.
Receiving the keys of the project, the Western Regional Minister, Mr. Anthony Evans Amoah commended the [email protected] Secretariat and government for the edifice, as a legacy that would remind Ghanaians of the celebrations.
To him, despite the late start of the project, the contractor, the consultant and all the stakeholders made sure the project was completed on time with efficiency and good organization.
Mr. Amoah however assured the consultant and government as well as the Secretariat of the sustainability of the project, with the walling of it and the formation of a committee to serve as watchdogs of the Park.
All these plans, according to him, would be met before the end of 2007, when the celebration of the jubilee comes to an end.
Culled from The Chronicle