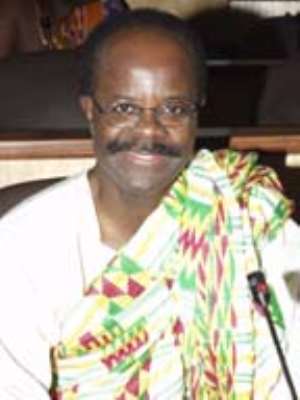 Minister for Public Sector Reform, Dr Paa Kwesi Nduom on Friday dropped hints of his imminent resignation from the President Kufuor-led national administration of the NPP.
He said his resignation is based on the conflict of interest that seems to be deepening as the campaign season for the 2008 December polls draws closer.
"I have plans to disengaging myself from the NPP (administration)", he said.
Dr Paa Kwesi Nduom, who is also an MP for Komenda-Edina-Eguafo-Abrem said he would not behave like the late Vice President Kow Nkensen Arkaah who at one time was contesting the government of which he was a member on the ticket of another party, the Great Alliance.
To Dr Nduom, it is not expedient to remain a minister in an administration and contest its party on the ticket of another party.
According to him, remaining in the office till election time places a lot of strain on a person as he experienced during the 2004 elections and said he would not want to go through such an experience in the 2008 elections.
Dr Nduom was however quick to add that his declaration should not be misconstrued to mean that if the NPP retains the reins of national administration and he is invited to serve in any capacity he would decline it.
"I am ever ready to serve my country in any capacity", he intimated.
Dr Nduom pointed out that he is proud to be associated with the NPP administration though it was not every matter that he agrees with or is happy about. "It is however important that I step aside since I do not intend to join the NPP."
He said that his intension to resign is known to President John Agyekum Kufuor. He however declined to state when he would resign but said it is imminent and it is only a question of when.
Turning his attention to a group calling itself the Patriots and who claim to be members of the CPP, Dr Nduom described them as a bunch of intolerant politicians who want things to be done their way.
He said some people in the CPP think the party is for them, but what they are doing is rather hurting the party. "We cannot have a party that is battling to woo people into its fold but whose leading members are behaving as if the party is a club", he observed.
Source: The Independent