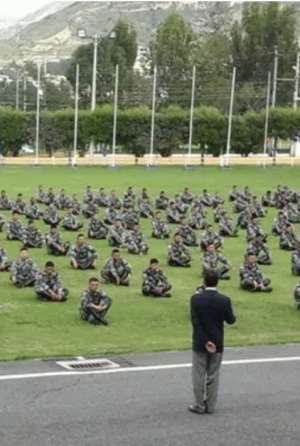 Latin American Warriors Practicing Transcendental Meditation (Image by David Orme-Johnson) Details DMCA
---
Attn: Herzi Halevi, Commander-in-Chief, Israel Defense Forces
I am writing to you today with great urgency and hope regarding the precarious situation in Israel.
Israel has faced more than its fair share of challenges and conflicts over the years, but the Israel-Hamas war is a much more dangerous conflict that has alarmed nations around the world. In these perilous times, it is crucial to explore innovative strategies that go beyond conventional military strategies and tactics.
The Transcendental Meditation (TM ) technique and its advanced TM-Sidhi program can be utilized by your armed forces to relieve collective societal stress, proactively end the present conflict, and prevent further hostilities with neighboring nations. A Prevention Wing within your military could be trained to use the evidence-based TM technique to stem aggression.
The TM program is a well-established, non-religious technique that has been scientifically shown to reduce individual stress through deep physiological rest that enhances mental clarity and focus. In addition, when it is practiced collectively, it has demonstrated a profound positive impact on war, conflict, violence, crime, and other forms of societal turbulence. Such social problems arise from unresolved collective societal stress.
When the size of the TM group meets a specific threshold (the square root of 1% of the target population), there is a measurable decrease in the incidence of negative outcomes. For Israel's population of under 10 million, a group of about 320 experienced TM meditators would then have the potential to deflect hostile elements; a group of 500 would exert an even more powerful ability to achieve positive results in the entire Middle East region.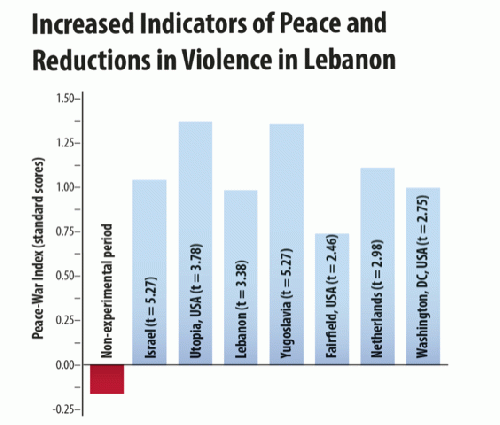 Increased Indications of Peace and Reductions in Violence in Lebanon | (Image by Dr. David Orme-Johnson) Details DMCA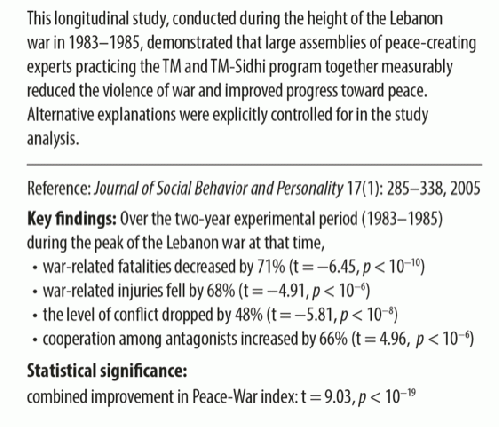 Longitudinal Study Conducted During the Lebanon War | (Image by Dr. David Orme-Johnson) Details DMCA
The extensive research on the societal impact of the advanced TM program utilizes robust statistical methods and objective data sources, including government statistics and databases by independent researchers. Rigorous controls for various alternative factors have been applied. These findings have been consistently replicated across diverse populations and published in reputable journals such as the Journal of Conflict Resolution, Journal of Social Behavior and Personality, Social Indicators Research, Medicina and World Journal of Social Science. The results reveal statistically significant reductions in war-related fatalities, improved economic conditions, heightened quality of life, and decreased levels of crime, violence, accidents, drug-overdose deaths and illness.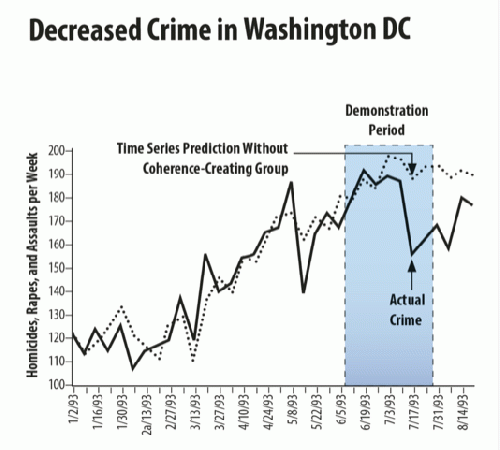 Decreased Crime in Washington DC | (Image by Dr. David Orme-Johnson) Details DMCA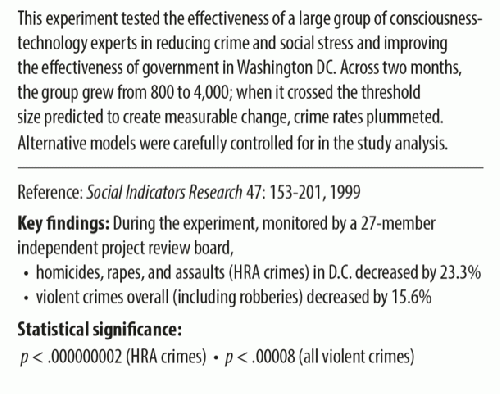 Effectiveness of a Large Group of Consciousness-Technology Experts | (Image by Dr. David Orme-Johnson) Details DMCA
For example, a study published in the Journal of Offender Rehabilitation (based on global data from the Rand Corporation) showed that when the size of large TM groups exceeded the threshold predicted to give rise to a measurable effect, annual deaths due to worldwide terrorism decreased 72%, international conflict decreased 32%, and violence was reduced in other nations without intrusion by other governments.
As Chief of the General Staff for Israel Defense Forces (IDF), please consider establishing a Prevention Wing that incorporates the Transcendental Meditation and TM-Sidhi programs into its daily routine.
By applying proven techniques that reduce cumulative societal stress, we can work towards ending current conflicts, preventing future conflicts, and building a more stable future for Israel and its neighbors. The evidence-based approach that the TM program offers, once implemented in Israel, could serve as a valuable model for peace-building programs in other volatile locations worldwide. Action taken now by the IDF could ultimately lead to lasting world peace.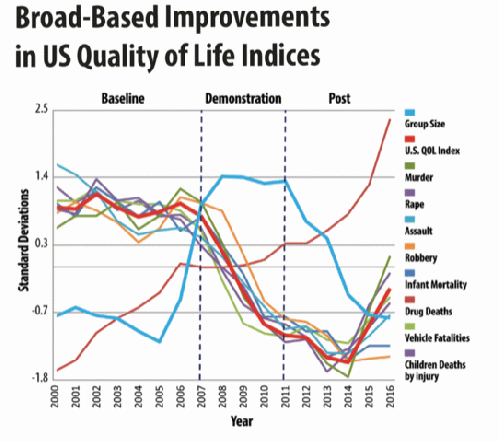 Broad-Based Improvements in US Quality of Life Indices | (Image by Dr. David Orme-Johnson) Details DMCA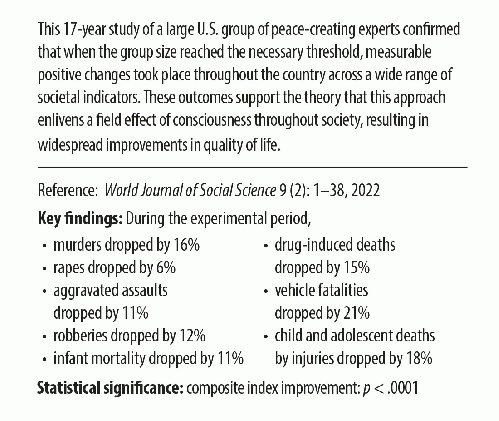 Seventeen Year Study of a Large US Group of Peace-Creating Experts | (Image by Dr. David Orme-Johnson) Details DMCA
I am ready to provide additional research and support to help implement this initiative. A proactive approach like this can contribute significantly to the peace and security of Israel and the entire Middle East.
Thank you for your time and consideration. I eagerly await your response and hope for a brighter and more peaceful future for Israel.
About the Author:


Dr. David Leffler has a Ph.D. in Consciousness-Based Military Defense and has served as an Associate of the Proteus Management Group at the Center for Strategic Leadership, US Army War College. Currently, he serves as the Executive Director at the Center for Advanced Military Science (CAMS) and lectures and writes worldwide about the value of Prevention Wings.