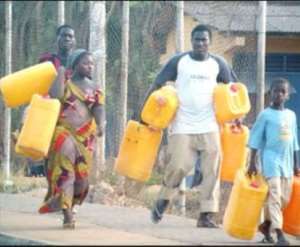 Ghana Water Company Limited (GWCL) has released a statement to inform its valued customers about the ongoing technical challenges at the Weija Treatment Plant, which have resulted in a water production shortfall, causing low pressures and erratic water flow in various areas.
The GWCL management has identified several factors contributing to the current situation, including faulty equipment, increased demand, routine maintenance works, and unforeseen circumstances.
This situation has significantly affected the Western Accra region, including communities like Gbawe, McCarthy Hill, Anyaa, Lapaz, and Darkuman, especially due to their elevated locations.
In response to these challenges, the GWCL management is appealing to residents to be mindful of their water consumption during this period. Customers are urged to conserve and use water wisely to mitigate the impact of the water shortage.
While efforts are underway to address the low pressure issues, some areas may experience more significant disruptions than others.
"To minimise the impact on essential service providers and critical facilities such as hospitals and schools, the GWCL is prioritising their water supply.
"The management expresses its appreciation for the understanding and cooperation of all customers during this challenging period.
"The GWCL assures its cherished customers that a team of dedicated engineers is diligently working to resolve the situation and restore water supply as soon as possible.
"In the meantime, the GWCL Customer Service team is available to address any queries or concerns. Customers are encouraged to download the GWCL Customer App from the Google Play Store or the App Store to receive prompt updates on the progress of the work.
"The GWCL deeply regrets the inconvenience caused by the water shortage and appreciates the understanding of the public.
"The company urges customers and essential service providers to contact the provided numbers in times of need: 0800 40000 (Toll-free on Vodafone lines), 0302 2218240, 0207385088, 0207385089, 0207385090, and via GWCL WhatsApp lines (0555123393, 0555155524).
"The GWCL management remains committed to resolving the technical challenges and restoring normal water supply as quickly as possible. They thank the public for their patience and cooperation during this period," the statement read.
—Classfmonline.com