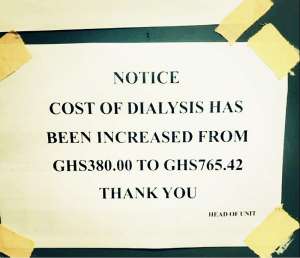 The cost of dialysis is heart breaking
Vote For a Leader That Will Reduce the Cost of Dialysis,We are All affected One Way or the Other.
Life expectancy is the average period a person may expect to live. Statistics from the World Health Organization (WHO) in 2019 indicates Ghana has a life expectancy of about 66.3 years.Data from the World Bank in 2022 shows it has appreciated to 64.94 years.
Longevity may be attributed to better health care and hygiene, healthier lifestyles, diet, and improved medical care.Unfortunately, with all the enormous resources Africa is endowed with, we haven't been able to give ourselves the basic needs we deserve thanks to the resource curse.A curse that our high level of religiosity has not been able to break.The cure of bad leaders.The life expectancy is low in Africa as a result of poverty and less access to good health care.
However, Algeria leads Africa with a life expectancy of 77 years. Chad, Lesotho and Nigeria have the lowest .Monaco and Japan have some of the highest in the world at 87 years and 85.03 respectively.Okinawa in Japan has one of the highest concentration of octogenarian(80-89 years) nonagenarian (90-99 years) and centenarians in the world(100-109 years ).
Chronic Kidney Disease has been a leading cause of low life expectancy in many developing countries in the world including Ghana.Chronic Kidney Disease (CKD) refers to the presence of reduced function of the kidneys lasting more than 3 months and characterized by estimated glomerular filtration rate (eGFR) of less than 60mL/minute per 1.73m2. It is also associated with presence of abnormalities in renal imaging, renal biopsy or urine sediments results.There are 5 stages in CKD.
Stage 1 CKD: Mild kidney damage, eGFR 90 or higher. Stage 2 CKD: Mild loss of kidney function, eGFR 60-89. Stage 3a & 3b CKD: Mild to severe loss of kidney function, eGFR 30-59. Stage 4 CKD: Severe loss of kidney function, eG FR 15-29. Stage 5 CKD: Kidney failure or close to failure, eGFR less than 15. Mostly, patients with Stage 5 CKD are considered candidates to start dialysis therapy or be considered for kidney transplantation.
Studies have shown that Diabetes and Hypertension are some of the leading causes of CKD.About 1 in 3 patients with diabetes has Chronic Kidney Disease. Diabetes is more prevalent in certain races and ethnic groups which includes black people. Many people with diabetes develop high blood pressure as well.
High blood pressure also tends to damage blood vessels in the body. This can reduce the blood supply to the kidneys which may lead to CKD.
Studies indicate that the
Diabetes prevalence rate in Ghana hovers between 2.80% – 3.95%.
With Ghana's population of over 33,475,870, we are looking at about 937,324.36 to 1,322,296.865 people.Also, the prevalence rate of hypertension in Ghana according to studies is about 27.3%.Have you done the maths?
These figures are alarming as the cost of living has become so high.I was filled with grief when I saw a notice that the cost of dialysis has been adjusted upwards from GH380 to GH 765.42.It is even more costly at some facilities. Patients will have to pay GH 765.42 about 3 times in a week to survive. Wow,we are talking GH 2,296.26 a week.How much does the average Ghanaian even earn?
How many Ghanaians will be able to survive this aside politicians who have siphoned money from our corrupt system.From what I gathered,Ghana has only 15 dialysis centers(I stand to be corrected).That means there is already a lot of pressure on this dialysis centres.
If you will still stay on the fences as a Ghanaian after this and not bat an eyelid,then you may be part of the problem or benefiting from it.May be you are not affected now,but it may be someone you know the next moment left at the mercy of this chronic condition in a system where nothing really works.
We have to outgrow our biases on tribal and religious grounds and think of Ghana.The cost of getting more dialysis machines or setting up dialysis centres is not beyond our means as a nation. Our leaders have just not made it a priority. Every new V8 you see is several dialysis machines moving around.
A lot of Ghanaians are susceptible to Diabetes and type 2 diabetes is inherited.Many are prone to this and we need to call on our leaders to focus on making dialysis services cheaper and more accessible.Our health system has to be aggressively improved and we have the power to demand this.
The prevalence rate of CKD in Ghana is about 13%.It means over 4,351,863.1 people in Ghana may need dialysis at a point if their conditions do not improve.
A good number of these people have been voting for subsequent governments over the years.Some have paid taxes all their lives but are left at the mercy of our cruel politicians.
The 1,322,296.865 diabetes patients in Ghana and/or the 4,351,863.1 people with Chronic Kidney Disease who stand the risk of CKD, may need dialyses one day.They have the power to secure their future and that of their families.They have enough numbers to decide the next leader.They must vote for a leader that will make it inexpensive to access dialysis services and who will improve our health system.Unfortunately,our leaders have the means to afford better health care in the West when they find themselves in this position or even sponsor their love ones.This is why they don't care.
I am very sure we all have someone in our family with Diabetes and Hypertension, the leading causes of Chronic Kidney Diseases.This means we are all affected.Let us not settle for less.They have to earn our votes.
To everyone battling these diseases, I pray for strength and a miracle.May your health become whole.
Long live Mother Ghana.
Dumenu Charles Selorm