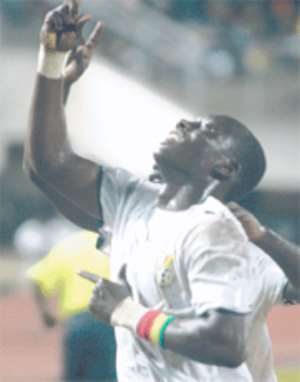 Group B's semi-finals candidates at the Africa Under-17 football championship were decided yesterday after Ghana's Black Starlets confirmed Eritrea's status as the whipping boys by a 6-0 thrashing.
By their qualification to the semi-finals, the Starlets booked a place as one of Africa's four candidates in this year's FIFA Under-17 Championship in Korea in August.
Ghana led 2-0 at half time and scored four more times after the break to book Eritrea on the next available flight after Saturday's final group matches.
Eritrea, who lost their opening match 0-8 to Nigeria, have only some amount of pride to play for when they meet fellow home-bound Burkina Faso in one of Saturday's last group matches.
The game fetched double success for Ghana as substitute Sadick Adams achieved a hat trick in the second half and joined Nigeria's Macauley Chrisantus as the top scorers at the tournament so far.
Ransford Osei opened the scores as early as the second minute when his follow-up to a rebound beat goalkeeper Yosief Zeratsion.
Seven minutes later, Abeiku Quansah bent home a free kick, but the rout was held in check, partly by Ghana's apparent lack of motivation against a hapless squad, and also because of Eritrea's desperate bid to salvage some pride.
But it opened again early the second half when Ishmael Yartey drove home a classic one after a good control of a pass from midfield.
Goalkeeper Zeratsion then gave way to Robel Kiflay but it did nothing to stop the rout.
Adams then grabbed his turn, his first coming on the stroke of the 70th minute from a bullet strike outside the penalty area, the second a similar strike in the 80th minute, and the last on the stroke of full time when he first beat Kiflay and slotted home into an empty net.
Any hopes of the Eritreans to leave the match with at least a goal was dashed by Aman Habtesilus' feeble strike when he had just goalkeeper Abraham Hoenyedzi before him in the 74th minute.
Story by Michael Quaye