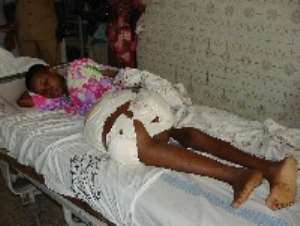 Afi Kumaho, the 13-year-old class six pupil of the Awutu Fianko Primary School with the infected leg for whom the Times last December launched an appeal, has lost her battle for survival.
She died on Friday, March 9, at the St. Joseph's Orthopaedic Hospital at Koforidua, where she had been on admission since December 18.
Afi fell from a staircase at school and her leg became swollen and infected
Dr. Christian Nimako-Boateng, an orthopaedic surgeon at the hospital, confirmed Afi's death to the Times, and attributed it to a cancer.
In an earlier interview, Dr. Boateng said when Afi was brought in initially, the option of amputation was immediately considered to save her but after a series of tests it was realised that she had the cancer, osteosarcoma.
'We have all been concerned, trying to do our very best but it has been a really difficult task,' he stated.
Dr Nimako-Boateng said eventually, the surgical procedure had to be suspended as she was not responding to the preparatory treatments.
He said he had been working closely with the head of the Orthopaedic Department, Dr. J. Cassa, but medically it was a very difficult task especially when many attempts to raise her haemoglobin level from 3.3 to the required 12 for the surgery failed.
The highest that could be registered he said, was 5.0 adding that all attempts to improve her condition proved difficult because her leg was badly infected.
Afi's body has since been released to the family for burial.
Contributions following the appeal, including some foreign cash donations received from sympathisers, yielded about ¢40 million, part of which was used to pay her medical bills.