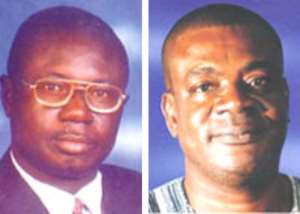 The District Chief Executive for Kwahu South, Nana Kofi Kesse, 59, a former official of the Bank of Ghana has deployed the caretaker of his official residence with a written request to a Mallam at Namassa, near Tain in the Brong Ahafo region he has been consulting for sometime now, with a chilling project – kill three people he suspects to be disturbing him, fry the brains of another and spiritually unhinge the President.
Nana Kofi Kesse, who has had a long-standing feud with the Member of Parliament (MP) of his constituency Hon. Kwabena Adusah Okerchiri, 44, finally snapped when it got to him that the MP and a couple of associates of his may be moving against him, and decided on a final solution – kill them so that he can keep his job. Two others were marked for death or spiritual disorientation.
In his own handwriting Kofi Kesse wrote:
'Mr. Appiah Ansong He is someone who has made it his aim of ensuring that I fail and for that matter disgrace. I therefore want him dead.' The second victim was to be made an imbecile.
He wrote: Kwasi Asante
'HE IS PART OF THE GANG WHOSE INTENTIONS ARE TO ENSURE MY FAILURE AND DISGRACE. I WANT TO SEE HIM BECOMING A FOOL – GYIMI GYIMI On the Regional Minister, the DCE wrote for the attention of the Mallam;
'HE MUST ONLY LISTEN TO WHATEVER EXPLANATION I GIVE TO HIM SHOULD ANYBODY ESPECIALLY THE MP (KAKYIRE ADUSAH) AND HIS EXECUTIVES REPORT ANYTHING TO HIM. Then the shocking last item,
THE PRESIDENT 'HE MUST ONLY LISTEN TO WHATEVER EXPLANATION I GIVE TO HIM SHOULD ANYBODY SPECIALLY THE MP (OKAKYIRE EDUSAH) REPORT ANYTHING TO HIM'.
The Chronicle checks and interviews confirmed that DCE Kesse, who has been consulting spiritualists took the drastic decision after several months of feuding with the incumbent MP, and consulted a Mallam first around June last year with his houseboy/ caretaker Mr. Alex Yeboah, 42.
The battle between the two political leaders in Kwahu South has been well-known and has persisted despite all efforts to resolve the problem.
In the middle of last year, Chronicle learnt that the caretaker Yeboah, who shares the official residence with Kesse carried a message to the Mallam and returned after a day's journey with a calabalistic substance consisting of an effigy of a man with needles inserted all over it, a horn, bones threaded round in black and red and all secured with a white calico. Several weeks after the macabre object was given to the DCE, the problems with Okerchiri refused to go away.
At one point, matters got to a head when polling station executives of the constituency issued a vote of no confidence in the DCE, a constitutional aberration, which had no effect whatsoever on the DCE.
Highly disturbed by developments in the area, Kesse sent for the Mallam who paid him a day's visit and returned some time in September.
According to sources close to the DCE, what finally pushed the DCE to pursue his diabolic enterprise was an allegation made to him by a female guest of his that the MP and one of his friends by name Appiah Ansong had visited a Mallam at Nkoranza.
This was shortly followed by the strange death of one of his sheep, then another. He became convinced that he had to move before he became the next live victim.
He summoned Alex to his room and told him to go and tell the Mallam to kill three of his suspected enemies, including the MP, seek the mental disorientation of a fourth and above all spiritually secure his favour with the President so that he does not dismiss him.
Alex, who is not very well educated, asked the MP to put the specific message down in writing to forestall misrepresentation.
Kesse thought it was a good idea, so he put it into writing. He added the photographs of the intended victims, gave him T & T, and dispatched him to Brong Ahafo.
Frightened, Alex, whose mother had previously cautioned him against having anything to do with matters of a calabalistic nature and had issued an emotional appeal and warning to him never ever to undertake any such diabolic missions for anyone again after she found out and her son had admitted to carrying out trips to Mallams, could not bear it.
To be part of a plot to kill someone and spiritually destabilise the President to keep his c350, 000 a month – 14 hours a day - 7 days-a-week job was too much for him.
He went to Accra, kept the documents, stayed for a day and returned to Kesse to announce that the mission had been accomplished and lied that the Mallam said to tarry a while. A month after noticing that no one had died, the DCE called him and told him that he now knows that he never went to the Mallam.
The caretaker's problems began.
The MP confirmed to The Chronicle in a telephone interview yesterday that he had been invited by the police in Accra and had been made to write a statement concerning the plot to kill him. He said the handwritten request to the Mallam was shown to him plus the pictures of those who were wanted dead, including the coordinator for NADMO (National Disaster Management Organisation), Mr. Ansong Appiah and the Regional Minister whom he wanted the Mallam to make malleable to him.
'It is a macabre plot and most people who have heard it cannot believe that such a thing could happen', the outspoken legislator who happens to be a lawyer added.
He said he happened to be present when the caretaker, Yeboah, also came to write his statement to the Police. The DCE would however neither confirm nor deny writing the note, when reached for his comments on phone yesterday.
When asked: 'Are you denying ever writing a note?" Nana Kesse's response was "I won't comment on that. I want the police to finish with their investigations." He however confirmed to The Chronicle that he has given a written statement to the police, who said they were going to continue with their investigations, about two months ago. He added that there are attempts to blackmail him.
According to him the MP started fighting him within a month upon assuming office, claiming that the president did not consult him before the appointment.
He said there had been several stories fabricated against him, some of which were reported to the Local government Minister, and based on which his deputy came to carry out investigations that showed the allegations had no foundation.