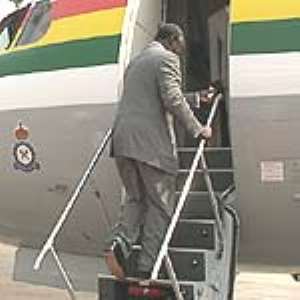 The President, John Agyekum Kufuor leaves Accra today for the United Kingdom for a three-day State Visit.
The visit, which is at the invitation of Queen Elizabeth II, is the first to be undertaken by any Ghanaian Head of State or president at the request of the British Monarchy since 1957.
Since the President and his wife, Theresa, will be the guests of the British Monarchy, they will stay at Buckingham Palace during the visit.
Mr. Andrew Awuni the Press Secretary and President Spokesman, who briefed journalists at the Castle last Friday on the visit, said the highlights of the visit include bilateral talks between President Kufuor and the British Prime Minister, Mr. Tony Blair, at Number 10 Downing Street.
The British opposition leader and other British politicians will pay courtesy calls on the President at Buckingham Palace.
He is also expected to hold a Breakfast Meeting with African Heads of Missions in London and deliver a major policy statement at the Royal Institute of International Affairs.
There will be a special round-table on Wednesday to facilitate President Kufuor's meeting with business leaders.
The forum will set out the economic advances made by the country in recent years and highlight the new opportunities for profitable investment.