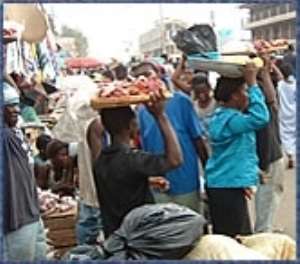 Thirty-six traders, who flouted the Accra Metropolitan Assembly (AMA) bye-laws and sold in the streets and on pavements of the metropolis, have been convicted by a magistrate court.
Twenty of them were given between six months and two years jail terms while the remaining 16 were fined ¢2.4 million each.
In an interview with the Times yesterday, Mr. Yaw Jehu Appiah of the Public Relations Directorate of the AMA, warned other traders to desist from the act or face prosecutions.
He also asked shop owners to stop petty traders from selling in front of their shops, warning that both the shop owners and the offending petty traders would be arrested and prosecuted.
"Shop owners are also reminded that it is an offence to display goods outside their shops and on pavements.
All such goods will be confiscated and their owners prosecuted," he stated.
Mr. Jehu-Appiah, cautioned that taxi cabs without embossments and taxi drivers without uniforms would be arrested and prosecuted after the deadline set for them.