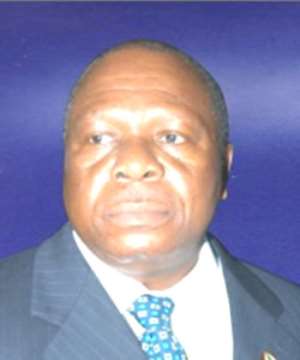 The incarcerated Member of Parliament for Keta, Daniel Kwasi Abodakpi, is asking his NDC colleagues in Parliament to rescind their indefinite boycott of parliamentary proceedings.
In a press statement dated February 17, 2007, a copy of which was made available to myjoyonline.com, Abodakpi expressed profound gratitude to the NDC MP's who he said had already demonstrated to him that they were together in everything that they did.
Praying God's blessings for his supportive colleagues, he maintained that he was innocent of the charges for which he had been convicted, and explained that he had appealed against the judgement of Justice S.T. Farkye.
"In the meantime, I will ask my fellow Parliamentarians, who have shown such great solidarity with me, to reconsider their decision to boycott proceedings in Parliament indefinitely."
Abodakpi, a former Minister for Trade and Industry was handed a 10-year jail term on February 5, after the Fast Track High Court in Accra, presided by Justice F.T. Farkye found him guilty of willfully causing financial loss of $400,000 to the State.
He had pleaded not guilty during his trial and maintained in his press statement that he was innocent.
"I wish to say to you all that I am innocent and intend to continue to defend myself up to the highest court of the land against what I consider to be injustice of the decision and sentence given to me by the Fast Track High Court."
Abodakpi explained that all his political life he had served his country faithfully, for which he had no regrets. He said he did not however intend that his "circumstances become a source of worry or disadvantage" to his constituents and the NDC party.
"While going through the process of appeal, I have had a sober reflection about the effect of the possible events of the next few weeks, not only on myself and my family, but also on my Party and my Constituency, who have voted me into Parliament to protect and defend their interests.
"My lawyers have applied on my behalf to the Court for bail pending an appeal I have lodged against the judgement of Justice Farkye. I have immense confidence in my lawyers and the outcome of the application. If the application is successful, I shall return to Parliament to represent the interest of my Constituency and the NDC."
On behalf of his family, he also expressed gratitude to his solicitors, members of his constituency, former President Rawlings as Founder of the NDC, Prof. Atta-Mills as NDC Flagbearer and members of the NDC for standing by him.