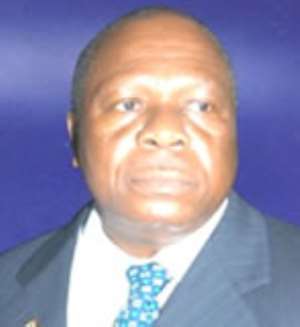 Freed MP for Keta, Mr. Dan Abodakpi says he will fight to clear his name of all charges that have been preferred against him at the court although the President has granted him pardon from prison.
Mr. Abodakpi was serving a 10-year jail term for the offence of causing financial loss to the State to the tune of $400,000. He was convicted and sentenced on February 7, 2007 together with the Late Victor Selormey, a former deputy Finance Minister after a trial that lasted for five years. He served only one year of the sentence.
President Kufuor granted him pardon in exercise of his constitutional prerogative of mercy in Mr. Abodakpi's favour. Mr. Abodakpi was a former Minister of Trade and Industry in the National Democratic Congress (NDC) administration and a sitting MP.
The pardon was announced in a statement signed by Chief of Staff and Minister for Presidential Affairs, Mr. Kwadwo Mpiani, Saturday May 24, 2008.
Mr. Abodapki said his counsel will pursue the case till he is pronounced innocent. He said he sees light at the end of the tunnel and will drag the case to its highest limit, expressing the hope that the court of appeal would clear him of all the charges.
Meanwhile Mr. Abodakpi has announced his gratitude to President Kufuor.
He was also thankful to his family, the NDC, his constituents, the Speaker and Members of Parliament for standing by him during his imprisonment.
Mr. Abodakpi asked members of the general public to grant him his privacy as he resettles and prepares to go back to parliament.
The announcement of his release from prison over the weekend was met with wild jubilations and celebration in Keta. Both NPP and NDC members in the constituency joined in the jubilations to welcome their MP back to freedom.
By Emmanuel K. Dogbevi