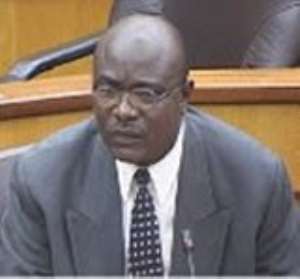 The Deputy Minority Leader, Mr. Edward Doe Adjaho has welcome the presidential pardon granted incarcerated Member of Parliament for Keta, Mr. Dan Abodakpi.
He however said the president should have gone a step further to drop the charges against the former Trade and Industry Minister.
Mr. Dan Abodakpi was serving a ten-year jail term for causing financial loss to the state.
However statement issued by the Office of the President on Sunday and signed by Mr Kwadwo Mpiani, Chief of Staff and Minister for Presidential Affairs said, the President has granted Mr. Abodakpi a pardon by way of remission of the remainder of his sentence.
But Mr Adjaho says although "half a loaf in better than none" an absolute pardon would have promoted reconciliation in the country.
He told Joy News that the evidence adduced by prosecution did not warrant Mr Abodakpi's conviction in the first place.
Reports from Mr. Abodakpi's constituency say supporters of both the NPP and the NDC were jubilating following news of the MP's pardon.
Speaking to Joy News, a brother of the MP, Mr. Fred Abodakpi expressed appreciation to the president for the decision.
He said the family had been relieved of the tension, eagerness and agony members had endured for some time.