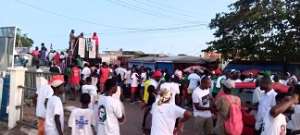 Hundreds of National Democratic Congress (NDC) supporters in the Tema East Constituency participated in an "NDC Unity Walk for Victory 2024," to develop ties and thank Ghanaians for the peaceful primaries conducted on May 13, 2023.
The NDC Unity Walk for Victory 2024 also served as a platform for all candidates and supporters to work together for the party's advancement now that the primaries were completed.
The NDC Unity Walk for Victory 2024 was attended by Tema East MP, MP for Kpone-Katamanso Constituency, Regional, Constituency, Appointees, Elders, and Electoral Area Coordinators, among others.
According to Mr. Isaac Ashai Odamtten, NDC Tema East MP, the walk aimed to foster peaceful coexistence in the area while also working towards a common goal of overwhelming electoral success in both the Presidential and Parliamentary elections in 2024.
He also thanked God for the party's presidential and parliamentary elections being peaceful and orderly.
Mr. Odamtten indicated that the party would collaborate to ensure the NDC's overwhelming win in the 2024 general election.
He told the constituent that he will continue to support the constituency's education and health requirements, and that the party is capable of rescuing Ghana from its current economic woes.
Mr. Kempes Papa Nii Ofosuware, Chairman of the NDC Tema East Constituency, noted that the constituency was the first to band together following the primaries and urged Ghanaians to rally behind the NDC's advancement in Election 2024.
He asked members to do all possible to keep Mr. Odamtten as MP and former President John Dramani Mahama as President in order to salvage Ghanaians from the current economic catastrophe.
Nii Ofosuware stated that a number of activities will be taken to register all new recruits in order to increase former President Mahama's vote and Mr. Odamtten's vote, and he urged members to put their differences aside in order to help the party grow.
One of the unsuccessful candidates, Mr. Michael Nii Abbey, stated that the Tema East NDC Unity Walk for Victory 2024 was crucial to rescuing Ghanaians from adversity and told the people that voting for Mr. Odamtten would be the best decision in ensuring progress in the area.
He also asked Ghanaians to vote for former President Mahama in large numbers in order to recapture political power and save the country from the ruling party's economic disaster and incompetence.
-CDA Consult