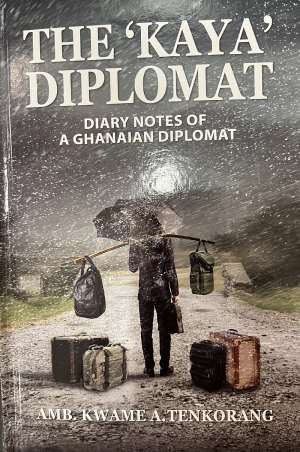 Book Review (Long Read)
The 'Kaya' Diplomat
Diary Notes of A Ghanaian Diplomat by Ambassador Kwame A. Tenkorang. DigiBooks, 2023, pp330
In this remarkable and informative book, Ambassador Tenkorang, a good storyteller puts fresh spin on the classic permanent stories of friendship, love, intrigue, intimidation and harassment at the Ministry of Foreign Affairs, missions and at the Presidency where he served as deputy Chief of State Protocol and Chief of State Protocol during the regimes of Presidents John Jerry Rawlings, John Evans Atta Mills and John Dramani Mahama.
Tenkorang was influenced by the rich Dagbon culture during his national service at Yendi Secondary School. He attended a Public Service Commission interview dressed meticulously in a typical Dagbon smock. His colleagues were smartly dressed in suits in the tropical heat. When questioned about his attire, Kwame Tenkorang evoked Kwame Nkrumah's admonition that Africans must be proud of their culture and promote the African Personality. The Ministry of Foreign Affairs' representative Ambassador Joseph Quao Cleland of blessed memory was highly impressed and excited by Tenkorang's performance. Ambassador Cleland was therefore determined to have Tenkorang at the ministry despite the fact that he was already an assistant register at the university of Ghana Legon.
The writer takes pains to explain the meaning of 'Kaya' and 'Konongo Kaya' in a very interesting way. The word 'Kaya' means load in Hausa, a language spoken since the 7th century. Kaya is popular today as a result of the numerous young women porters carrying loads across Ghanaian markets for a living. Kayayoo (singular) and kayayee (plural) are blend of Hausa and Ga words – "Yoo" meaning woman, lady or girl in the Ga language. Another popular term is 'Konongo Kaya'. It refers to those in the political class who are selfish and 'useless' incapable of achieving genuine development and yet would still hold on to power. In a broader sense, they are agents of the decadent system imposed by the post-colonial state.
But, Tenkorang is not a 'Konongo Kaya' by any stretch of imagination. He is a Mister Foreign Service Officer (FSO A4) who at baptism on the job in Geneva was handed five briefcases, overcoats of seniors onto his shoulders to handle. A confused Mister FSO also had to find the conference room for the Ghanaian delegation at the UN Centre and the cloakroom to deposit the heavy winter coats. This is how our 'Kaya diplomat' began the long journey from FSO Class 1976 to ambassadorship with distinction.
This 7- chapter book is infused with ironic and political humour. By 1976 the 'executive class' at the Ministry was made up of graduates and officers who were not graduates, but had abundance in long service. They were referred to as MBAs. Meaning in Akan - Me Baaha Akye or in Ga, Mba Bie Ekye. Some had been in service since independence in 1957 from the African Affairs Secretariat. As part of the struggle for supremacy, the non-graduate executive class officers derided the graduates who had no money and were taking tro-tro or the black maria from the International Students' hostel to work as 'coat-coat'. They wore empty coats with no money. Sadly, the historic International Students' hostel which was home to thousands of students including those from the African national liberation movements was demolished by the National Democratic Congress (NDC) government to construct the current ministry of foreign affairs. In Ghana, it seems governments are best in destroying historic buildings, forgetting that these are touristic sites. Enhancing tourism is one of the best modern ways in creating jobs and wealth.
When Parliament did not have the necessary qualified staff as a result of the long years of military dictatorships, it was the foreign ministry that supported it by sending officers such as Tenkorang. He served as secretary to the Parliamentary Health Committee. The author's take on the 1979-1981 parliament is similar to what many social commentators complain about the current parliaments in Africa. To Tenkorang, it was 'almost theatrical at times….members were there principally to play to the gallery for the sake of fame with an eye to the next elections.' Grand standing appeared more important to members than the progress of the nation.
This book also features sad stories related to intrigues on postings. He was posted to Moscow 3 times but never made it. Once, an officer from Annex replaced him with the Ministry not explaining why? He became an object of pity. When he politely demanded for an answer, the PNDC secretary (minister) the all-powerful Yao Obed Asamoah answered 'And so, what?' On another occasion, a female officer based in Ethiopia replaced him with the support of powerful elements. The excuse was that she could not withstand the altitude of Addis Ababa. A cabal of senior officers used to conspire 'to tinker with postings'. They wanted to be posted soon after returning from postings.
Following the return to civilian rule in January 1993 Yao Obed Asamoah was confirmed as the Foreign Minister with additional responsibility as Attorney-General and Minister for Justice. Tenkorang was re-assigned to the fifth floor as the Minister's Personal Assistant (PA) in spite of his earlier encounters including Obed's instruction to the Public Service Commission (PSC) to deduct a day's salary for being late to work. With his experiences, Tenkorang acknowledges Yao Obed Asamoah as a hardworking Minister who gave his professional opinion on issues that were brought before him. "Never a man to beat about the bush'. Precision is his way. The Minister is also accredited for restoring discipline. A case in point was when one female colleague decided to tarry a while after receiving her recall to base – after 4 years. The High Commissioner, a former PNDC Secretary and a powerful man in government demanded she stay for medical reasons – but it was suspected for conjugal reasons. The Minister stood his grounds. The officer was declared to have vacated her post. This disciplinary action helped the ministry to go back to the posting policy of 'first come, first go.' It also brought new attitude to work.
Ambassador Tenkorang recalls the unpatriotic manner Ghana ceded Telecoms, Ghana Film Industry Corporation (GFIC) and the Tema Shipyard and Drydocks to the Malaysians under dubious terms by the tyrannical Rawlings' regime. There was no capital investment from the Malaysians apart from the change of name to Penang Shipyards PSC.
The Tema shipyard could be building Ghana's own FPSO, when oil production began in Ghana during the presidency of John Evans Atta Mills. This could have created wealth and jobs for Ghanaians.
A depressing part of this informative book is the conclusions of Mr Foo, the Singapore High Commissioner to Ghana. The Asian diplomat came to the ultimate conclusion that it would be almost impossible for Ghana to turn around, given the way we were going about our development challenges....' According to High Commissioner Foo, Ghanaians just talk and talk and talk, and do absolutely nothing! Unless, Ghanaians reduce talking there was no miracle that would bring development to enable the country turn its fortunes around.
On his first posting to Japan in 1994 as deputy Ambassador, the author noted that his boss was getting involved in dealings not in the interest of Ghana. First, by moving the Mission and residence from a high-class suburb, Meguro in central Tokyo to Setagaya. By Accra standards, it is like moving an office from Osu to Madina. For the residence, beyond Madina to Oyarifa on the Aburi road.
Ambassador Real Admiral Chemogo Kevin Dzang also had opted to buying a dilapidated building to be used as chancery. After inspecting the dilapidated building, the Head of Mission requested permission from Accra to buy. The Chief Architect of Architectural and Engineering Services Limited (AESL) who had gone to Japan for the sole purpose of inspecting the recommended building bluntly complained loudly. It was not worth the trouble. And he added that 'given our-own money would the home based staff contemplate throwing it away buying such a dilapidated building?' Opposition also came from Ambassador J. A. Laryea, Chief Director of the Ministry and Mr. K. B. Quantson, the National Security Coordinator. It was left to the Foreign Affairs Minister Professor Kwamena Ahwoi, to stop the purchase of the dilapidated building.
The Swedru Declaration
On a Friday after the 1998 famous Swedru Declaration by President Rawlings, in which he stated "I will support the Vice President Prof. Mills, if he decides to contest the 2000 Presidential Election". The Vice President Prof Mills decided to accept his boss' trust in him. He organised a visit to Tamale to meet NDC leaders. On Saturday, the Vice President publicly accepted the succession plan of the NDC founder. The following day Sunday, President Rawlings was in the cockpit. He had flown from Accra to Tamale to pick his Vice to Accra. Why?
The kitchen in the First Gentleman's residence was too hot to remain in after the Vice President's acceptance speech became public. The all-powerful 'Madam of the household' who had demonstrated interest in the presidential seat felt 'outmaneuvered' by the Vice President's acceptance speech. The acceptance had shut the door to other interested groups and individuals who were interested in succeeding President Rawlings. Some, like the respected technocrat Goosie Tandoh left the NDC to form the Reform Party. Ambassador Tenkorang writes, 'As they say, when you see a rat out of its hole running at full speed in broad daylight, every reasonable being would conclude that it was being chased by something with sinister motives.' Hence, the First Gentleman tried to figure out a robust conflict prevention plan to cool tempers at home.
President Rawlings landed the aircraft at the Air Force station in Accra and immediately had an intense fifty minute first conversations with his Vice President. The 'Kaya' Diplomat writes that 'I sensed a facade of unease. What had they discussed that could so affect the usual composed face of the Professor? Had the Professor or anyone offended anyone by the acceptance of the "Declaration?" Why did the President himself fly the aircraft to Tamale to 'pick' the Vice President and his entourage?'
Madam upon listening to the Vice President's acceptance speech sent verbal missiles and was 'livid with anger'. After staying in 'hell' that Saturday night the First Gentleman decided to do something dramatic to reduce the heat in the kitchen.
The presidential intimidation continued. President Rawlings did not like Ambassador Tenkorang. He had tried to figure out who Tenkorang was. In mid-May 1979 as a young military officer, Rawlings had tried overthrowing the Supreme Military Council (SMC) government led by General Fred William Akuffo and failed. A police officer with a moustache similar to Tenkorang's interrogated him. He was allegedly tortured by this police officer and so any time President Rawlings saw FSO Tenkorang he instantly remembered May 1979. On several occasions, Rawlings asked Tenkorang if he was a 'police officer'. The simple answer was that he was a Foreign Service Officer (FSO). President Rawlings was suspicious. At the famous fifty-minute discussions with the Vice President at the Air Force station he enquired again if Tenkorang was a 'police officer'. Tenkorang was clearly in trouble and the Vice President noticing the incoming dangers decided to protect him by requesting his return to the Ministry of Foreign Affairs 'because he felt my job was on the line but didn't want my career to hit the rocks through no fault of mine nor his'.
Tenkorang was to face further 'problems' with President Rawlings when he retired in 2001. The former President Rawlings was made promoter of the UN volunteer service. On a mission to Malawi, he made a stopover in Addis Ababa without any notification from the Ministry of Foreign Affairs. Tenkorang, then deputy ambassador in Ethiopia suggested to Accra for missions to be informed of the ex-President's movements in order to provide protocol and not to expose the internal problems of the country to foreign dignitaries.
The new Minister, Hackman Owusu-Agyeman, took exception to Tenkorang's report. He blasted Tenkorang for trying to 'teach' the government how to deal with the ex-President. The man who subverted the Third Republic with his 31 December 1981 coup. Tenkorang received a query. He responded and added an apology. Case closed.
In 2009, Professor Mills was in power following the 2008 presidential elections and had difficulty in finding the Chief of State Protocol (CSP) he could work with and trust. On a state visit to Japan, the President's men proposed Ambassador Tenkorang to replace Ambassador Kenneth Kwaku Kanda, member of the MFA class of 1976, who was been posted as Ambassador and Permanent Representative to the United Nations in New York. Tenkorang accepted the new post of Chief of State Protocol (CSP).
The Presidency in Ghana, like it's counterparts elsewhere has its fair share of loyalists, decent professionals, intrigues, backbiting, backstabbing and bad storytellers. These are known as 'the President's men and women.' One such person Tenkorang remembers is 'our brother'. He and political opponents of President Mills contributed immensely to the 'toxic' environment by narrating manufactured stories in their studios for public consumption. "Our brother" and others fed the public with lies. The president would put a brave face and try to wash it off his mind as he prepared to deal with the developmental agenda of government. But this "our brother" was something else. By his demeanor "our brother" felt threatened anytime he convinced himself that an official was getting closer to President Mills. He will produce more tales or intrigues. Trust, is essential in the Presidency. After many more lies, and a confrontation with Tenkorang, President Mills 'told him to leave his staff alone to do their duties'. In sharp contrast, the other brother of the President Dr Cadman Atta Mills, more educated, reasonable, jovial and easy-going never 'haggle" with Ambassador Tenkorang's team.
As the book progresses one gets a good opinion of who Professor John Evans Atta Mills was. He never accepted per diem from the state "no matter where we went or for whatever reason'. He also forbade the State Protocol from giving anything to his niece, Auntie Maud who regularly travelled with him to take care of his meals. When CST Tenkorang once gave an envelope to Auntie Maud, the President returned it with "a stern warning" never to repeat it.
Following the demise of President Mills on 24 July 2012, Vice President John Dramani Mahama succeeded him. New King, new presidential men and women. The new men included the respected academic Raymond Atuguba, Sulley Gariba, Prosper Douglas Kwaku Bani, Stan Dogbe and subsequently, the calm respected broadcaster Ben Dotse Malor, a communications expert at the UN secretariat in New York and Ambassador Alhaji Baba Kamara. The infighting continued. At one point, the fighting was at the tarmac of Accra airport. According to Ambassador Tenkorang, the Chief of Staff, Prosper Bani, approached him on the tarmac to go and fetch Ben Dotse Malor out of the aircraft that was taking President John Dramani Mahama to the Ebola stricken countries of Liberia and Sierra Leone. Tenkorang politely refused. He then asked Prosper Bani to go and remove Ben Dotse Malor himself. It took the diplomatic skills of Ambassador Baba Kamara to calm the situation. He backed Tenkorang. There was jubilation in the Flagstaff House on the day Prosper Bani was replaced with Julius Debrah in 2015. Atuguba, (aka Big Brother), Secretary to the President was one official who had no time for gossips and small talks. He was a workaholic and focused on his job. He finally resigned and was replaced by another FSO Ambassador Kwesi Quartey, a former Ambassador to Ethiopia.
Tenkorang's book also contains confidential coded names. On a visit to Brazil, for example, there was this powerful COSBRA - meaning the Chief of Staff of Brazil. That, COSBRA was everywhere meddling in whichever way she could, breaking protocol with impunity which the presidential team found rather annoying but containable.
The 'Kaya' diplomat, despite lacking footnotes is entertaining. It's original, simple, beautiful and raw, but not sentimental. It would certainly contribute to preventing convenient memory loss. This book is highly recommended.