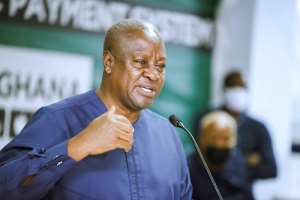 Former President John Dramani Mahama
Former President, John Dramani Mahama on Wednesday, March 22, launched his campaign fundraising platform to illustrate how politicians generally and political parties can broaden and make more transparent, their sources of financing.
At the launch, the flagbearer hopeful of the National Democratic Congress (NDC) called for a more transparent and broad-based citizen participation in the financing of political campaigns.
According to him, it is very crucial for Ghana to reform the financing regime for political parties in the country.
In the past, the practice has been that a political party would derive its resources from the regular dues paid by its members; donations by individuals; or special fundraising by the party for specific purposes.
According to the Ghana Centre for Democracy and Development (CDD), in recent times, some financing of political campaigns was coming from illegal activities such as illegal miners, oil bunkering businessmen, fraudulent businesses, procurement dealings in the award of contracts, among others.
The study even reported that there appeared to be a strong association between financing of political campaigns and organized crime in Ghana. This is worrying because it has the potential of mortgaging the governance system to criminals.
If that happens, Ghana's democracy would be gradually turned into a plutocracy – a country ruled indirectly by a few wealthy individuals.
Recognising past suggestions for government to finance political parties, John Dramani Mahama said now is not the time especially when the country is going through an economic crisis.
"While this issue may be as old as the 4th Republic, having been advanced by many in the past, it remains relevant. It is one piece in our democratic journey that has continued to elude reform.
"As a key actor in our political space since 1996, I can attest to the relevance of ethical campaign financing in Ghana. Whereas some political actors have advocated state sponsorship for political parties, the truth is, Ghana is today, broke," John Dramani Mahama argued.
The former President continued, "It is therefore important we engage in sustained discussions and build consensus on funding political parties within the context of public policy to promote good governance and democratic practices in Ghana."
John Dramani Mahama further proposed that in the future if the option of government financing political parties becomes an option, an explicit Public Funding of Political Parties Bill in a bipartisan and inclusive manner must be put in place.
The John Mahama 2024 Campaign Fund Raising Platform has made four platforms available for Ghanaians both home and abroad to support the former President's bid to become the first gentleman of the land again.
The four that will be available for sending donations include a John Mahama campaign mobile money number, a USSD code, an Official Zenith Bank account number, and a John Mahama fundraising Mobile App.