THE 275 MILLION DOLLAR MAN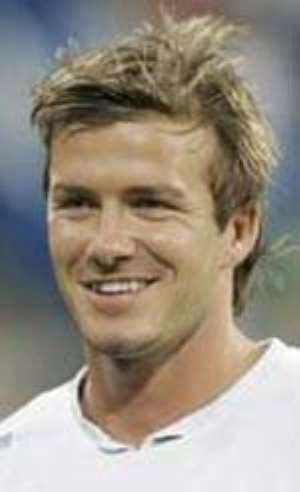 David Beckham is set to become the first modern footballer to have a stake in the football club he plays for - and share in its profits.
"Golden Balls" - as he has been nicknamed by the tabloids - may not have a golden share but he will make money from LA Galaxy, possibly as much as $10m (£5.14m) a year in profits.
Insiders I have spoken to have painted a fascinating picture of the astonishing $250m (£128m), five-year deal he has signed with the Los Angeles team.
Indeed Beckham could earn more than $250m, perhaps as much as $275m, over the period of his contract.
I understand his yearly income from next season, when he leaves Spain for America, will be:
An annual salary of $10m His existing sponsorship contracts with his four sponsors - Motorola, Pepsi, Gillette and Volkswagen - are estimated to be worth $25m
His merchandising shirt sales will bring in $10m
His share of the club profits: $10m
That adds up to $55m. Multiply it by five and you get well over $275m.
Hence the bold claim made by his commercial agent Simon Fuller of 19 Entertainment, who holds the rights for the Beckham brand.
He told me. "I have long dreamt of being responsible for the biggest sporting deal. With the help of David Beckham and his unique sporting talents I have helped achieve my aim."
Beckham may no longer dream of playing for England.
He may end his career in the relative soccer backwaters of the United States.
But if his agent's calculations are right, he will go out dreaming of the millions that will pour into his bank while he vanishes from the European stage he has dominated for so long.
COMMENT
DO YOU THINK AN AFRICAN PLAYER CAN GET SUCH A DEAL IN FUTURE?