Hundreds of alleged rebels accused of "assassinating" former president Idriss Deby Itno went on trial in a Chadian court on Monday, the chief prosecutor and lawyers told AFP.
The hearings will be held behind closed doors at Klessoum prison, just southeast of the capital N'Djamena, where the suspects will also face charges of terrorism and undermining state security.
Chief prosecutor Mahamat El-Hadj Abba Nana said "over 400" were on trial, while lawyers gave a figure of 454, of whom 386 would be present for the hearings.
In early 2021, the Front for Change and Concord in Chad (FACT), the most powerful of several rebel groups opposing Deby's regime, launched an offensive from its strongholds in southern Libya.
On April 20, the army said the president who had ruled Chad since 1990 had been killed while leading troops against the rebels.
His death was announced just a day after he had been declared victor of a presidential election that gave him a sixth term in office.
Despite criticism of his authoritarian rule, Deby was a key ally in the West's anti-jihadist campaign in the unstable Sahel, particularly due to the relative strength of Chad's military.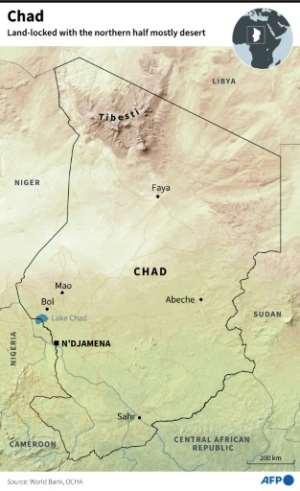 Chad. By (AFP)
His son, General Mahamat Idriss Deby, immediately took over as head of a "transitional military council" while promising free elections within 18 months.
But last October, authorities extended the election deadline to 24 months despite international opposition, with delegates of a "national reconciliation dialogue" -- boycotted by most opposition groups -- also saying Deby would be eligible to run for the presidency.
Chad, one of the world's poorest countries, has endured repeated uprisings and unrest since gaining independence from France in 1960.