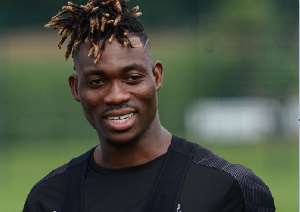 Ghanaian international player, Christian Atsu has been found with injuries and
Ghanaian international player, Christian Atsu has been rescued.
This was after reports indicated that he has gone missing in the devastating magnitude 7.8 earthquake in Turkey on Monday morning.
He was found this evening with some injuries on his right foot and breathing difficulties, according to reports.
Christian Atsu is at the hospital receiving treatment.
Some dutch radio stations have confirmed the latest report even though Atsu's football club is yet to release an official statement on the latest development due to some conflicting reports.
The former Chelsea FC winger was reportedly trapped under rubble for several hours.
According to information gathered from portals in the European country, over 1,500 people have already died. There are fears the death toll could rise to 5,000 by the close of the day.
Meanwhile, a number of club officials and some players who were also caught up in the earthquake have been found and rescued in the last few hours.
The government of Turkey has committed all available resources to ensure people trapped are rescued and given the needed care.
Christian Atsu, 31, is in Turkey where is playing football with Superliga side Hatayspor.