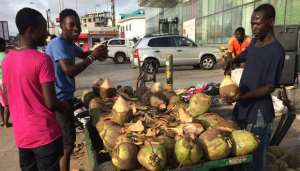 Some coconut sellers in Tema have called on the youth especially the unemployed graduates not to depend on white collar jobs but rather engage in the informal sector – entrepreneurship, and artisan business as it is productive.
The Coconut sellers encouraged the youth to consider the global economic meltdown and take immediate steps to venture into other areas of informal business which is now becoming the backbone of the country's economy.
Mr. Ebenezer Arthur, a coconut seller at Tema Community one told newsmen in an interview that for the past seven years, he had been engaged coconut business and as a result moved from the Central Region to the Greater Accra Region.
He said through the business, he's been able to cater to the needs of his family and some personal needs, the business is lucrative, and "I will encourage the unemployed youth to consider coconut business".
Mr. Arthur added the business generates at least GHC400.00 to GHC500.00 daily out of which he had invested in other businesses to earn more to sustain the future, he engages in the fried rice business every evening.
He mentioned that although people look down on such businesses, they made a lot from it and called on the youth to venture into such businesses and not wait for the government's employment opportunities.
Mr. Kwasi Nyarkor, also a coconut seller in Tema who had been in the business for over 30 years said out of that business he was taking care of his six children at school.
He mentioned that during 2020 when COVID-19 was at its peak, sales tripled which enabled those who were serious about the work to save a lot.
He urged the youth, especially the unemployed educated graduates, to take advantage of some of these businesses and not be idle at home waiting for white-collar jobs.
He added that gone were days when opportunities were available even while in school noting that, they must look at the dynamics and know how to take their steps.
Mr. Michael Yankee, a seller at Michel Camp said he prefers selling coconut to any corporate job because of the benefits attached to it.
He said he started the business after completing Senior High School and said although the business was stressful, he would encourage the youth to venture into the business as nothing comes easy.
-CDA Consult II Contributor