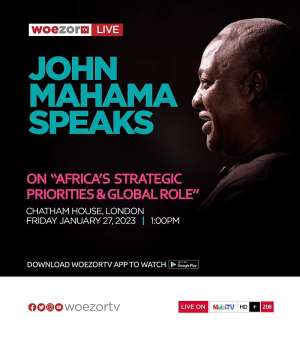 Every society thrives when the old generation plant trees that they know clearly, they will not profit from its fruits. H.E John Mahama has a personality that attracts the likeness of people but far more than that, he has an amazing story telling approach to delivering speeches.
It may not be considered a hasty conclusion if you make the assertion that he is the presumptive next president of the Republic of Ghana. I have closely followed most of his international invitations to public meetings from January 2022 till now to make contributions to strategic discussions on economic growth, security and terrorism in the Africa sub-region as well as education and gender inclusivity in leadership. If you are a good student of our Ghanaian politics, you will observe that most of our international development partners have started a realignment process to strengthen their relationship with him against the backdrop of him being the likely winner of the 2024, December 7, presidential general election.
Today, Mr. Mahama's speech on Africa's strategic priorities and global role at CHATHAM House is one that worth paying a closer attention to, both for the good and for the ugly if you are Ghanaian below forty years. Most African leaders are very real with facts and figures when dealing with international partners especially during projective conservations.
Mr. Mahama narrated a delineation of the African story and narrowed it down to Ghana's story. I started sweating copiously when he reminded us that in less than six weeks, Ghana will be celebrating sixty – six years of nationhood far from being an occasion to celebrate independence, we will mark this day under the yoke of the worst economic situation arguably in our history as a country. We are currently bankrupt and burdened with a national debt, we are simply unable to service both external and domestic debt.
How can a country unable to service it's external and domestic debt create jobs for its ever-increasing population? Mr. Mahama indirectly left this question on my mind.
There are deeper pointers in Mr. Mahama's speech than just the soundbites media houses will promote, history is conclusive on the fact that our last IMF program as a country which ended under this current government brought some stability but gains were spent on government's consumptive options.
The most important missing link provided by Mr. Mahama in his speech is his proposal to fix our value system as a country, I have observed the switch in the speech of H.E Mahama post-2020 election. Consistently, he has shown the way that criticism and complaining are futility, it has brought no substantive benefit to the nation rather the new order is to restore the value system of the country.