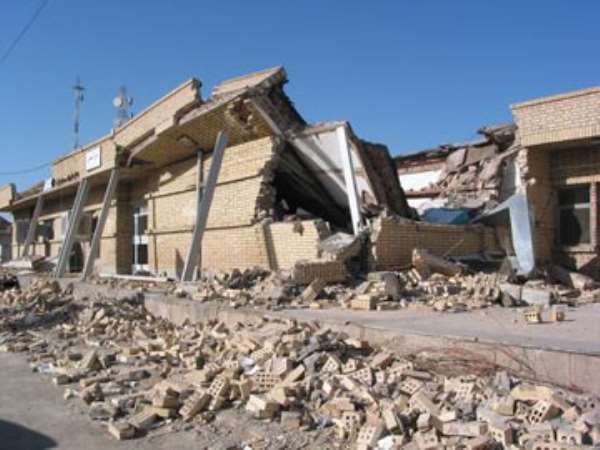 Two people are now confirmed dead in the collapsed four-storey building tragedy at the O&A Travel and Tour company terminal at Asafo-Labour in Kumasi last Friday night. The mutilated body of one of the victims was retrieved from the debris by rescue workers at dawn on Friday and deposited at the Komfo Anokye Teaching Hospital mortuary, while a rescue operation is underway to retrieve the other body.
Rescuers from the National Fire Service, AngloGold Ashanti, the Police, private construction firms and NADMO were involved in the operation The victims, all drivers' assistants of the company were cleaning the buses parked under the building when the disaster occurred. Their names were however not given. Speaking to the Ghana News Agency on Sunday, Mr Adu Poku, a Director of the company said six people were under the building when it collapsed. He said the other four managed to escape with various degrees of injury.
Mr Adu Poku said they were rushed to hospital where two of them were treated and discharged on Saturday, while the others are still on admission. He denied that there were passengers and visitors under the building as was being speculated, since the place was not meant for such purpose. He said since the incident, nobody had come to inquire about a relative he was expecting to arrive or travel by the company's buses neither had anyone reported the death of a relative from the incident. He said the victims were cleaning the four buses, which are currently buried in the rubble when the accident occurred.
Mr Albert Kan Dapaah, the Minister of the Interior and Mr Emmanuel Asamoah Owusu-Ansah, the Ashanti Regional Minister, visited the scene on Sunday morning. They were accompanied by the Deputy Regional Minister, Mr Osei Assibey Antwi, Ashanti Regional Police Commander, ACP Frank Adu Poku, officials from the Regional Security Council and NADMO.
He recounted the number of buildings, which had collapsed in the Kumasi metropolis in recent times and said a committee of experts would be put together to examine the causes of such disasters and recommend appropriate measures to enable the REGSEC take appropriate action to prevent future occurrences. Mr Owusu-Ansah commended the rescue teams for their efforts and urged them to speed up the operations, while a committee is set up to investigate and bring out suggestions that would help prevent future occurrences of such disasters.
Mr Kan Dapaah, appealed to the media to desist from playing the blame game and allow the committee to do its work.