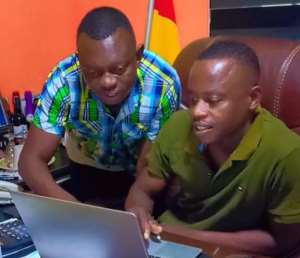 The youth wing of the National Democratic Congress (NDC) for the Zebilla constituency in the Upper East Region has taken steps to reunite all 19 wards making up 157 branches across the constituency for victory in 2024.
The Zebilla Youth Organiser, John Akutam and his deputy Asaki Zakari aka Airforce 1 have organised a historic youth meet, eat, drink and interact dinner.
John Akutam addressing his colleague's youth at the dinner thanked all the youth branches in the constituency for voting for him in the just-ended election.
He promised to do his best to make sure the youth are well recognised in all initiatives such as employment.
According to him, he will strategise ways to mobilise to canvass votes for the party come 2024.
John Akutam used the platform to call on the leaders of the party not to forget the sacrifices made by the youth to secure power for them in 2024.
He added that the sacrifices made by the youth in the constituency must be consolidated by securing victory in 2024.
John Akutam stressed that there shall be vigorous house-to-house, village-to-village and town to town campaigns to canvass massive votes to enable the NDC to return to power in 2024 to save Ghana from the current hardship.