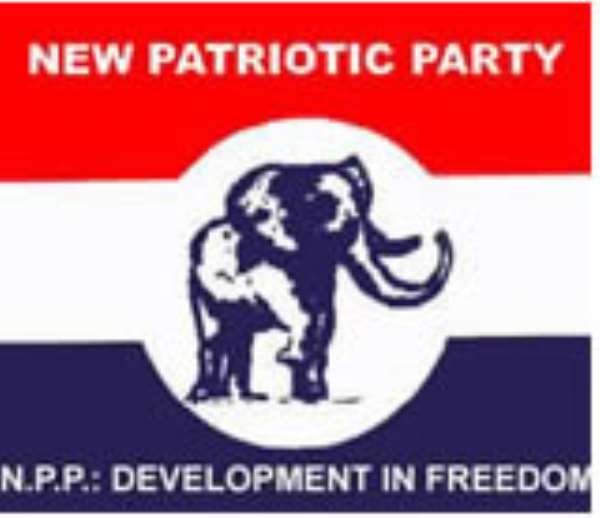 Central Regional Chairman of New Patriotic Party (NPP), Danquah Smith has inaugurated a 10-member reconstituted Interim Management Committee for Agona West Constituency of the Party at Agona Swedru.
They were sworn into office by Kwamena Duncan, Central Regional Secretary of the Party.
Mr Smith called on the members to bury their differences to ensure victory during the 2008 Presidential and Parliamentary elections and support the IMC to organise the Party in the constituency that had been inactive for almost a year.
Last year, Samuel K. Idan, suspended Financial Secretary of the Party in the constituency, filed a suit at an Agona High Court to restrain the Party from conducting Polling Station Executive Elections. The case is still pending before the court.
Mr Smith asked the members to work hard to receive the necessary assistance from the National and Regional Secretariats of the Party.
He urged them to forget about the bitter experience they had gone through due to the court action.
Mr Smith said Mr Idan refused a request by the Central Regional Secretariat of the Party to withdraw the case from court for amicable settlement to ensure peace and stability.
He urged the members to intensify their campaign and propagate the good policies and programmes which is being implemented by Government to retain it in power.
Mr Smith appealed to the IMC and members to be circumspect in their interactions with Mr Ben Mensah, Agona District Chief Executive and Parliamentarians in the area to ensure unity and cooperation within the Party.
He assured them of the needed logistic support to the constituency that had suffered due to misunderstanding.
Mr Duncan said inauguration of the IMC was historic and assured them that the Central Regional Secretariat of the Party would take a firm action to assist them work faster to win more supporters.
Abeiku Dickson, a legal practitioner and Special Assistant to Jake Obetsebi-Lamptey, Minister of Tourism and Diasporan Relations appealed to the IMC to work with caution and circumspection until the case before court was settled.
First Vice Chairman of the IMC, Michael A. Akoto called for cooperation and unity among the members to derive maximum support from the Central Regional and National Secretariats of the Party to retain the seat in 2008.
The IMC is chaired by Madam Baaba Otoo, Central Regional Second Vice-Chairperson of the Party.
Others are Joe Debrah Lamptey, Secretary, Andrew Cann, Assistant Secretary, Madam Hannah Grant Ayeson, Women's Organiser, Ekow Duodu, Treasurer, Ibrahim Mohammed, Organiser, Kojo Addo, Youth Organiser and James Appiah, Financial Secretary.