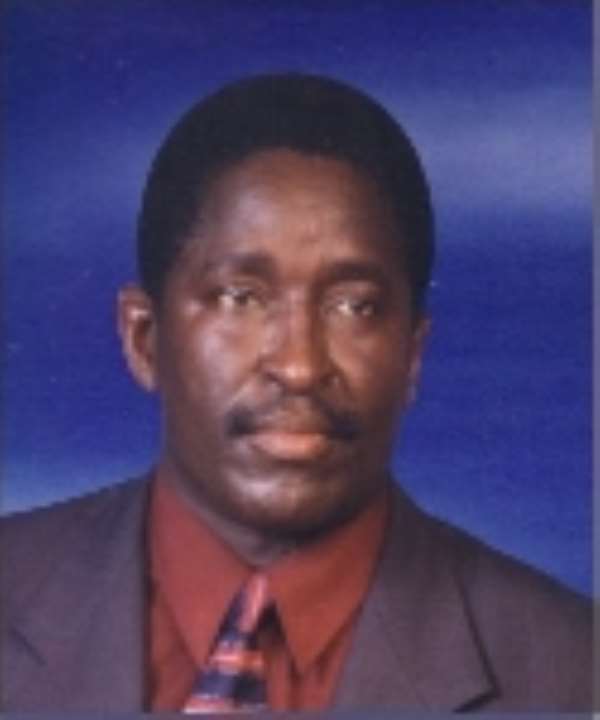 With just a little over a year to enter into general elections, the race for the Presidential slot is getting hotter and hotter time after time.
And as a result of this, no stone is lefty unturned by the aspirants, as they are making frantic efforts, legally, politically and diplomatically to win the race.
One of such candidates is Capt. (rtd) Nkrabea Effah Dartey, who, despite his busy schedule as a lawyer is gunning all necessary efforts to ensure that he stays, and possibly, win the race to the Presidential palace.
Last Saturday, Capt. (rtd) Nkrabea Effah Dartey did not mince words when he addressed Abesim Citizens Union in Accra.
Capt. Effah Dartey, who, spoke briefly hit the nail right on the head when he assured Ghanaians of good and effective governance when voted into power come 2008.
A one-time Deputy Minister of Interior and Local Government in the present NPP administration, coupled with his background as an international lawyer, Effah Dartey´s taste of government seemed to give him more insight into his political ambitions.
But despite this ambition, he adviced members of the Abesim Citizens Union based in Accra not to allow political sentiments to divide them.
He cautioned that when that happens, the purpose of forming the Union would be a mirage.
On his part, the Chief of Abesim and Kyidomhene of Dormaa Traditional Area, Barima Kumi Achiaw II appealed to Government to, at least, provide a Police post in the Abesim Township to enhance security in the area.
According to the Abesimhene, there is a high incident of lawlessness in the area, particularly among the youth because of the absence of a Police Station.
Barimah Kusi Achiaw, called for the provision of a Senior Secondary School to augment the efforts made by the only Secondary School in the area, St. James Secondary to accommodate the increasing rate of students' intake, as well as the construction of Urban Roads to make the area motorable.
Present at the function was the former Minister for Works and Housing and former Dep. Majority Leader. I.K Adjei-Mensah.
Formed some few years ago, Abesim Citizens Union has established a Welfare, Development and Education Fund, for the promotion of the well-being of its members, the development of Abesim Township and surrounding areas and the support of brilliant but needy students from the area.
So far, five students are benefiting from the fund.
They are Matilda Eyimaah of the University of Ghana – Legon, Kyeremeh Jones of the Kwame Nkrumah University of Science and Technology, Yaa Animaah of Sunyani Polytechnic, Emmanuel Adarkwa of Sunyani Secondary School and Isaac Kyeremeh of Berekum Secondary School.