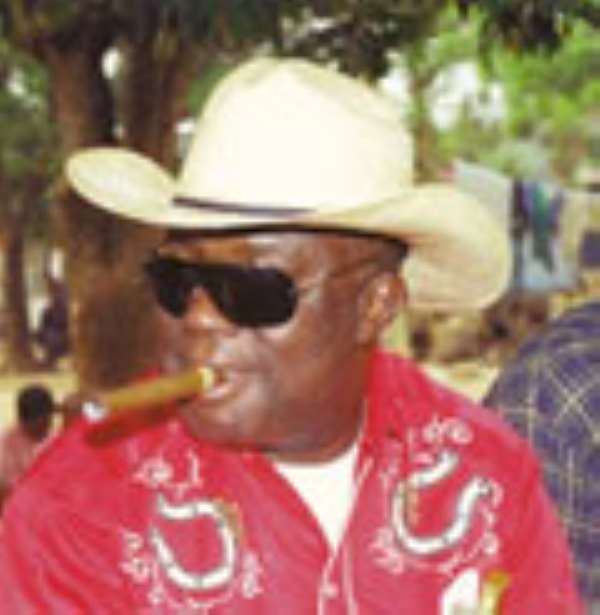 At exactly at 13.40 hours last Thursday, at Golden Tulip Hotel, Enquirer paparazzi captured the leader of United Renaissance Party (URP) Chuck Kofi Wayo heckling Cardinal Peter Appiah Turkson, the head of the Catholic Church and asked him to tell President Kufuor that Ghanaians are suffering too much.
Mr Wayo wanted to know why the reverend has refused to question the current government for bringing untold hardships on the people.
To back his allegations of insensitivity against the government, Wayo cited a case where he claims he doled out ¢3.5 million to rescue an orphanage which had its electricity and water supplies cut-off.
He said the utility service providers had disconnected supplies to the orphanage because the 'home' was owing the suppliers to the tune of ¢3.5 million.He asked the Cardinal "why would a sensitive government punish the two year olds and three year olds, whose parents have died of AIDS. Why".
A worried and obviously shaking Wayo, passionately rattled on and paused for a while wanted an answer from an obviously bemused Cardinal Apppiah Turkson who least expected the heckling.
The Cardinal was at Golden Tulip to attend a roundtable discussion organised by the Historical Society of Ghana, on the country's 50th anniversary. The reverend father, in his usual catholic theological trained manner, took time and spoke softly saying: "but you said it was the electricity company and the water company that cancelled supply to them. So in this case it is not the government."
The maverick politician quickly halted the reverend's logic saying: "tell me who appointed the board and the directors at the ECG and the water company, is it not the government."
Mr Wayo later got the Cardinal to nod in appreciation of his line of taught and argument. Without giving any chance to the reverend to make a comeback, he went on to allege that the police had refused to effect the arrest of the mayor when he went to a station to lodge a complaint.TheEnquirer