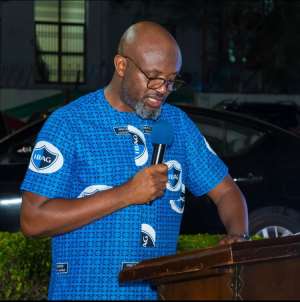 IBAG President, Mr. Shaibu Ali
The Insurance Brokers Association of Ghana (IBAG) will 2023 work on a five-year strategic plan focused on increasing Brokers' awareness and contributing to insurance penetration.
This has been announced by IBAG President Mr. Shaibu Ali during the end-of-year cocktail reception for all member of IBAG.
Per the 2020 Annual Report of the National Insurance Commission (NIC), Brokers' contribution to insurance premiums is 44.8% for General Business and 8% for Life Business. These figures are far from the situation in Nigeria, where IBAG's counterpart control over 70% of the insurance business in the country.
To change this and better the numbers, the new Executives of IBAG led by President Shaibu Ali have decided to come up with a strategic plan for next year.
"…the current Executive Council has decided to develop a 5-Year Strategic Plan in 2023 with the goal of increasing Brokers' awareness and contribution to insurance coverage and penetration.
"This is indeed a huge task which cannot be done by few and therefore all hands are needed on deck," Mr. Shaibu Ali said.
Speaking at the end-of-year cocktail event on the theme "Building a Solid and Vibrant Insurance Broking Fraternity Together", the IBAG President called on all Brokers to buy into the dream to ensure it becomes a reality.

Mr. Shaibu Ali said, "There is a saying that if you want to go fast, go alone but if you want to go far then go with others. The journey to the vision is certainly far and requires a marathon mindset, instead of a sprinter mentality. No one company or individual can do this alone, thus we need everyone aboard to ensure success.
" It is with this in mind that I call on everyone – old and young; the experienced and freshers in our fraternity to buy into the vision of building a vibrant and solid broking front in pursue of relevance and dominance."
At the event, Mr. Stephen Kwarteng Yeboah spoke on behalf of the Interim Board and Sub-Committees of the Ghana Insurance Industry Co-operative Credit Union Study Group (GIICU), to provide a report on the Union to the current and prospective Members of the GIICU.
According to him, apart from the seed capital of GHS300,000.00 contributed by IBAG, the Union has received a total amount of GHS213, 890 made up of GHS198,640.00 as shares and GHS14,360.00 as savings and GHS890.00 as entrance fees.
Mr. Stephen Kwarteng Yeboah also disclosed that as part of regulatory requirements, there has been a successful constitution of an Interim Board and two Sub-Committees, to provide governance for the Credit Union.

Mr. Stephen Kwarteng Yeboah
"We have also appointed an interim manager in the person of Mr. Felix Boama, who is the Accounts Officer at the IBAG Secretariat," Mr. Yeboah who is chairman of the Steering Committee & Board of the Credit Union said.
He concluded, "I would like to encourage all IBAG Member Companies and Individuals who have not yet joined to do so. Together, we can grow as a big family and achieve better life for all."
Per the basic rule of Credit Unions, each person is required to purchase at least the minimum amount of shares to become a member. For individuals, the amount is GHs100 and GHs500 for corporate entities.
Members are encouraged to save regularly to enable them have access to bigger sums of amount as loans. Savings will attract some interest and will be used as the first layer of guarantee for loans.
With the Credit Union, IBAG wants to pool resources to support those in need in the form of loans and return interest and dividends to those who have excess funds to invest.