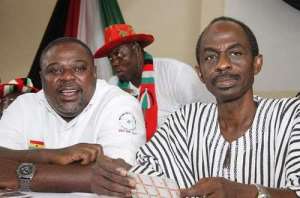 Samuel Koku Anyidoho, founder and CEO of the Atta Mills Institute has once again expressed his dislike for Mr. Johnson Asiedu Nketia who is aspiring for the chairmanship of the National Democratic Congress (NDC).
The former Deputy General Secretary of the party has posited that choosing Asiedu Nketia as chairman will be recipe for disaster.
In a tweet on Sunday, November 20, Mr. Anyidoho claimed the party will miss the golden opportunity to win 2024 elections if delegates mistakenly elect Asiedu Nketia as chairman of the party.
"I have said it several times: if the NDC wants to lose 2024, they should make the mistake and vote Asiedu-Nketiah as Chairman and Leader: nobody should blame me if we lose oooo!!!" his tweet reads.
He vented his rage on former President John Dramani Mahama, claiming that the 2020 NDC presidential candidate is not greater than any of the party's forefathers.
"They say I am, anti-JM: so, JM is pro-who? Is JM pro-Rawlings or pro-Atta-Mills? JM is pro-himself. I shall never support a selfish person," he said in another tweet.
On Saturday, December 17, the opposition party will go to the polls to choose the next national executives of the party.
Mr. Johnson Asiedu Nketia is preparing to unseat Mr. Samuel Ofosu Ampofo, the incumbent national chairman to lead the party to the 2024 elections.