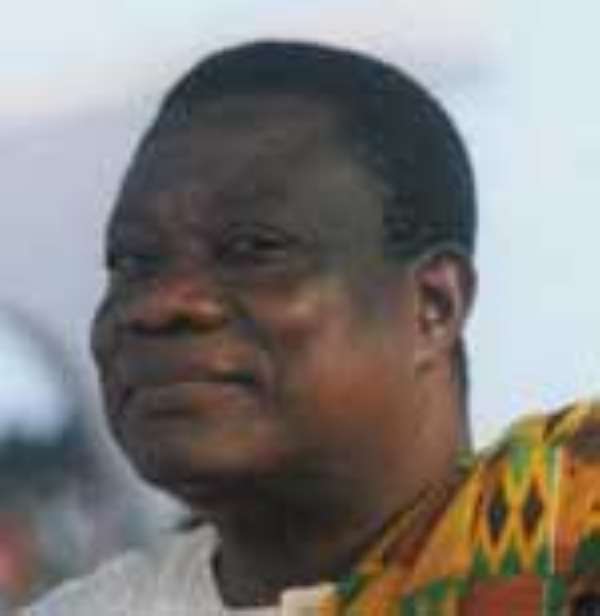 …As he refuses to talk to them
JOURNALISTS AND Policemen who had gone to the Obuasi Constituency office of the National Democratic Congress (NDC) last Friday to perform their various functions during the visit of Professor Evans Atta Mills, one of the aspiring presidential candidates of the NDC, rather left with downcast faces.
It all began when the journalists and policemen, who had had their seats at the main office of the party, were asked to wait outside by the Obuasi constituency organizer of the party, Mr. John Ackah, as soon as Professor Mills and his team entered the office.
"I have been told to ask you people to wait outside as the Professor would talk to you after meeting the delegates," Mr. Ackah had announced.
Professor Mills, a former Vice President and twice-defeated presidential candidate, was in the golden city of Obuasi with his campaign team to interact with delegates from eight constituencies within the Adansi and Amansie states.
The delegates comprised the chairman, secretary, organizer, women organizer and deputy women organizer from each of the eight constituencies being Obuasi, Akrofuom, Fomena, New Edubiase, Asokwa, Odotobiri, Amansie West and Bekwai.
After waiting patiently for over three hours, the aspiring presidential candidate of the NDC took a little over four minutes to address party supporters who had gathered around, and immediately departed, leaving the journalists to keep their questions to themselves.
The Chronicle had earlier confronted Prof. Mills' spokesman, Nii Lante Vanderpuiye, to tell him what the local constituency organizer had earlier told the journalists and policemen around.
Mr. Vanderpuiye asked, "Who told you that? …Let's wait a little for Professor to finish with the delegates."
In the four or so minutes he spent with supporters, the former Vice President asked them to be vigilant in the 2008 general elections and called for unity among them.
Reliable source at the meeting told The Chronicle that each of the delegates was given ¢55,000.00 as transportation, and ¢500,000 cedis for each constituency.
This figure is little above what Eddie Annan and his team dished out to the same delegates and constituencies when they came to Obuasi.
Eddie Annan, according to our source, also gave ¢500,000 to each constituency, but fell short in the area of transportation for which he was said to have given ¢35,000 to each delegate.
Meanwhile, the Ashanti Regional Vice Chairman of the party, Alhaji Sannie, has predicted victory for the party in the October 24, 2006, Offinso South by-election.
Speaking to Shaft FM's Francis Kwaku Boateng on the programme dubbed 'Shaft Morning Grill', the NDC capo said the people in the area were fed up with "the bad administration" of the New Patriotic Party (NPP), and that they were going to turn their back at the NPP.
"We are going to add the Offinso South by-election to our chain of victories," he declared, accusing the NPP of neglecting the area.