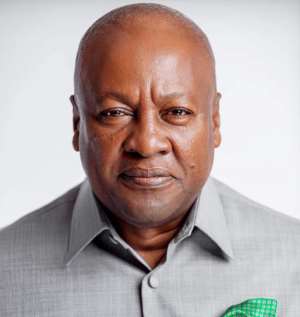 The year 2020 which closed the Akufo-Addo's first term in office, actually ended with a huge disappointment from most Ghanaians who took the words of President Akufo-Addo serious when he promised to put his presidency on the line to fight the galamsey menace. Those who knew from the very beginning that the words of the President were as usual a charade meant to create a veil for his henchmen to instead engage in and profit from galamsey, only got vindicated.
In the end, the stories that dominated the conversation around galamsey menace at the end of 2020 were: the missing 500 excavators; ministers of state and NPP party executives from National to constituency engaged in galamsey; presidential staffers caught on video tapes taking money (bribe) to clear the way for galamsey to thrive, among others. This came on the back of about GHC 3m of our taxes spent on purchasing drones with the supposed server and monitoring device installed at the office of the President to monitor our forest reserves and water bodies. Indeed, there was no political will from President Akufo-Addo, and if there was one, it was to promote the illegal mining by chasing out ordinary poor Ghanaians and taking over their mining sites.
In the run up to the 2020 general elections, Former President Mahama went into the 2020 general election with a blue-print, covering all sectors of the economy including a three-tier mechanism for the fight against galamsey, which was strategically designed to adopt a bottom-up approach in achieving the desired results. These were on;
1. Regulation—using policy and legislation
2. Job creation for the youth and involving mining communities.
3. Reclamation of lands, and afforestation—clean mining activities.
By regulation, President Mahama proposed in the People's Manifesto, 2020, page 58, item 6.13.2.2, paragraph (i) to: establish a National Mining and Forestry Initiative to help tackle illegal logging and illegal mining (galamsey). Also, on page 59 of the People's manifesto, specifically item 6.13.2.3 provides in paragraph (g) to: promote environmentally friendly small-scale and community mining operations, and in paragraph (h) to: ensure that licensed small-scale mining companies operate strictly in accordance with improved operational procedures to minimize negative environmental impacts. Note that, President John Mahama in December 2015 caused for section 99 of the Minerals and Mining Act, (Act 703) to be amended to attach punitive measures to illegal mining (galamsey) activities.
On the issue of job creation, President Mahama's people's manifesto on item 6.13.2.3 with specific reference to paragraphs (b) and (d) provide respectively to;
(b) establish mini-processing plants in strategic mining locations to support and improve metallurgical recovery of mined ore, leading to increased revenue generation. This will ensure job creation through the value-chain. And paragraph (d) suggest to promote legal and properly regulated and operated medium and small-scale mining to become attractive and well-paid business ventures, creating jobs for the youth.
The last of the three tier approach was to reclaim the lands and water bodies destroyed by the activities of small scale mining. On this, page 59, item (i) proposed to: "encourage chiefs in mining areas to take an interest in community mining processes to ensure that the environment is preserved, and local communities benefit from the revenue." This bottom-up approach is effective to the extent that each stakeholder is given a responsibility to play insofar as the protection of the environment is concerned.
Also, paragraph (m) on the page 59 of the 2020 manifesto, President Mahama proposed to review the structure of the Mineral Development Fund to ensure that mining
communities benefit from social responsibility practices. This will ensure the mining communities directly benefit from the proceeds of mining activities so as to ensure an all inclusive mechanism in the protection of the environment. This will motivate key stakeholders to get involved in clamping down all illegal mining activities since the proceeds of mining activities will ultimately benefit them.
Suffice this to say that, President Mahama had and still has an all inclusive, bottom-up, practical strategy to tackle the galamsey menace while ensuring job creation and value-addition to our mineral resources.
I was shocked to hear that a meeting was organized today, 5th October, 2022, by President Akufo-Addo with the National House of Chiefs to create yet another opportunity to clear and absolve himself from blame while pushing responsibility on the chiefs and other stakeholders who have no social contract with the people of Ghana. As usual, he did so with alacrity and tact.
Finally, I wish to state that the President has an ultimate responsibility to safeguard our environment. Also, the President holds the mineral resources of Ghana in trust on our behalf. The 1992 constitution of Ghana in article 257(6) provides, "every mineral in its natural state in, under or upon any exclusive economic zone and any area covered by the territorial sea or continental shelf is the property of the Republic of Ghana and shall be vested in the President on behalf of, and in trust for the people of Ghana." So, President Nana Akufo-Addo should for once accept responsibility for this mess created by his own hands and take measures to curb same. If not, he should give way for President Mahama who has the POLITICAL WILL to come and fix the mess.