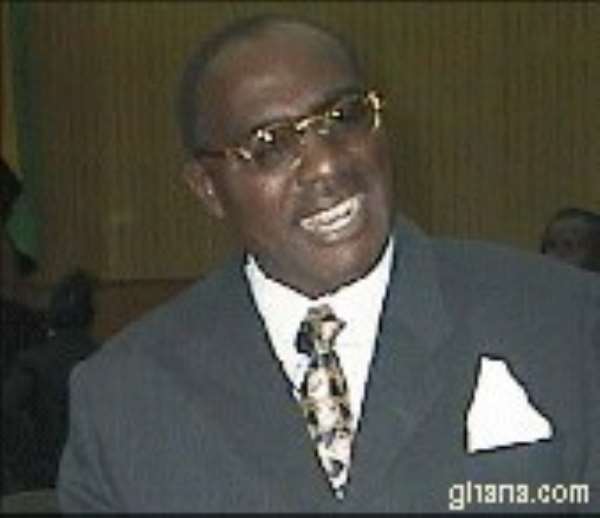 Profile of Papa Owusu Ankomah and Nana Addo Dankwa Akuffo Addo. Although the 2008 Presidential campaign is 3 years away, unofficially the campaign has began. From the fall of 2006 President Kufuor would become a lame duck president and those aiming to succeed him will come to the fore. Among the likely candidates to run would include the current foreign minister Nana Addo Dankwa Akuffo Addo and the young dynamic minister of Interior Papa Owusu Ankomah. Others will come forward and declare their interests but these two ministers are the only pontential candidates that could hold the presidency for the ruling New Patriotic Party.
Papa Owusu Ankomah, the MP for Sekondi was born and raised in the twin city of Sekondi -Takoradi. Papa, a product of Sekondi Experimental Primary school and Mfantsipim School, Cape Coast, earned a Law Degree (LLB) from University of Ghana Law School, Legon with honors. From the very early age, Papa showed leadership potentials both as a student at primary school and secondary school and was destined for high office even before he went to Legon to study Law. Before entering politics, the soft spoken MP from Sekondi was a successful lawyer and campaigner for the underclass in his native Sekondi. Despite his priviledge background, when his party was in opposition, at every opportunity, he highlighted the plight of the poor not only in his constituency but the whole of the Western Region. When this writer was a growing up in Sekondi, Papa was amomg those that this writer and every child aspired to be like. Papa held many ministerial positions in the last NPP administration including minister of Justice and Attorney General. In the begining of the second term of the NPP government, he has been given the ministry of Interior, thus positioning him to run for the top job in 2008.
With his ministerial experience, Papa would not be short of volunteers both in the country and the diaspora whenever he decides to launch his presidental bid. By launching his presidential bid, Papa would gain much support from every tribe in the country. That is the immense popularity of the man from the West. He looks and sounds as the natural successor of both late Dr Kofi Busia and late Kwesi Lamptey, another illustrious son from the Western Region.
Most commentators might argue that he is not a seasoned politician and thus has not got much experience for the presidency, but so was President Bush and Prime Minister Blair and few others who upon assuming the high office by surprising their critics in the performamce of their duties. Papa's credentials speak for itself. As a brilliant scholar and Lawyer, he has maintained a positive attitude and largely avoided attacking opponents both within his own party and the opposition. When he was appointed as the Minister of Youth and Sport, he fired his first warning shot at those who mismanaged affairs under his ministry. Although he has not explicitly declared his intention to run, Papa is widely regarded as a potential candidate for the 2008 Presidential elections.
In a speech that he gave at 44th Founders Week celebrations of the Ghana Academy of Arts and Science on the theme of National Integration, speaking on "The Costituition, Governance and Political Tolerance" Papa gave the first hint of his presidential ambition when he stated that " in the shifting sands of democracy, opponents today on one issue can become bedfellows on other issues tomorrow". That was when his presidential qualities came to the fore as someone who was gracefully maturing as a very serious politician.
Nana Addo Dankwa Akuffo Addo, like Papa is also a brilliant Lawyer and a highly respected politicain. The firery MP of Abuakwa South comes from an Illustrious family of politicians (his father Edward Akuffo Addo was ceremonial President of the second republic from 1970 to 1972) and is directly related to another young and dynamic traditional ruler, Nana Amotia Ofori Panin I I. The Abuakwa South MP and the Minister for Foreign Affairs, like Papa also held the post of Attorney - General and Minister for Justice. He has been active in politics for much longer period and thus in terms of experience he is more formidable in the current administration than any other minister. As Attorney General, he lead a drastic reform of the judiciary in the country, a project that has strenghten rule of law in the country and put Ghana on the map as one of the few sub-Saharan African countries where the judicial system works and is in conformity with the rest of the world. Despite his shot as a candidate against the current President in 2000 NPP primaries, Nana is highly regarded among his peers and would not short of supporters, especially from the right wing of his party.
Despite his provocative statements in the past, the fact that he is well liked among his people would ensure that he can easily carry his home region,( the Easterb Region) and other parts of Ashanti region if he declares his intention to run.
Nana's ideas and experiences with national issues all points to his ambition for the top job. He was among the few politicians who openly questioned and challenged the Human Rights abuses under the last (P) NDC administration and stood up to that administration without going into exile. Called to the bar (Middle Temple, England) in 1971, Nana has an impeccable legal creditentials and a highly atticulate record as a career politician. The question that has occupied most commentators' mind is, will Nana Addo Dankwa Akuffo Addo run in 2008 or not? Nana has kept his cards close to his chest, but as stated above his ideas and positions points to another shot for the top job at the 2007 NPP primaries. Due to the make of the Ghanaian society an all Akan ticket would be a death trap for any political party and hence quite impossible, thus Ghanaians would be denied a very formidable ticket of Nana Addo Dankwa Akuffo Addo and Papa Owusu Ankomah come 2008. The multi talented Foreign Minister would have to fight off a strong challenge from the youthful Interior Minister if he wants to get the top job. The Foreign Minster mapped his road to the top job whilst a young and rising Lawyer in Europe in the 1970s. 2008 would be his last opportunity. Peter Jeffrey London Views expressed by the author(s) do not necessarily reflect those of GhanaHomePage.