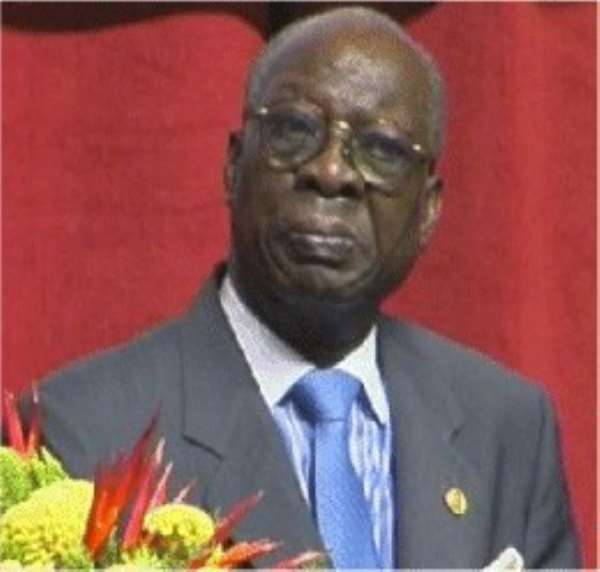 Countrymen and women, loyalists and opponents I think I started my presidency on a pretty bad note. I didn't notice how bad it was until the night of my inaugural – when the dust had settled and I was lying comfortably in my bed with Mama Tess in my arms. I was just reviewing events of the day, going over the time that was wasted in parliament on the election of a new speaker and its cascading effects on the programmes of the day. The brouhaha in parliament really made me anxious and I was very disturbed that we were wasting the time of my guardian angel, Olu of Naija, and other eminent heads of state who had come to grace the occasion.
I was looking for scapegoats. Certain names kept tossing around in my mind, but I couldn't run away from the fact that my name came up quite frequently. Well, the fact that so much time was wasted is now secondary history – it's a bygone event which is of no great import now. What is worrying me now is the source of the time wasting – the unexplained decision to nominate a new Speaker of Parliament to replace Ala.
I don't like Ala very much, you know. Neither does the majority leader in parliament. We – the majority leader and I – both think that he's too extravagant. Yes, he is. He likes to travel almost as much as I do – in first class and with a sizeable entourage. He goes around the world for unnecessary parliamentary conferences, which, I believe, do not help our parliament in any way. He also demands nothing but the best of the best. The last time his heart attempted to relax a bit – an episode which nearly sent him back to his Maker – he decided that Prof. Frimpong Boateng's cardio centre was not good enough for him. He therefore prevailed on us to spend hundreds of millions of cedis to treat him abroad. Secondly, he likes cars too much. He always wants to buy the latest Mercedes Benz. He's not a man who likes to show off though. That's why I do not understand why he likes to buy new cars as frequently as they are produced. I also think that he eats too much. I once saw him "attacking" a plate pies and fried eggs at a speaker's parliamentary forum and it was scary sight. I deduced there and then that the man might be spending a lot of our money on food. Thirdly, he's been inciting our MPs into discontentment. He's been waging a campaign for us to drastically increase MPs pay, claiming that "democracy is not cheap, you know". Fourthly, Ala is very insubordinate. On countless occasions, he failed to appear before me at the Castle when I summoned him to do so. His excuse was that he's the third most important man in the land and I cannot order him about like that. On his part, the majority leader, I am told, believes that Ala is too overbearing. He's also jealous that Ala is more intelligent than he is.
All these are good reasons to get rid of the speaker, aren't they? Well, that's what I thought. But now I think differently. In spite of his gluttony, arrogance, extravagance and insubordination as well as all his other 'negative' attributes, Ala was an excellent speaker. He delivered the goods. As our young people say these days, he took parliament to "another level". I do not understand why the party prevailed on me to ditch him in such a manner. The most annoying thing is that they did not give me any good excuse to help rationalize the decision to replace Ala with Sekyi Huge (the man is huge, isn't he?).
Now Ala's departure has sparked a wave of speculation. Different stories in different combinations are being peddled as explanations for my decision. It has been speculated that some party bigwigs made me ditch Ala because he's too fair and too impartial. I thought that these are the very virtues expected of a speaker of parliament. We should have praised and called him a legend for possessing such qualities in excess. Ditching him for being too fair and too impartial is like dismissing someone for being too competent. This happens only in Sikaman.
Another speculative excuse for the decision to ditch Ala bothers on tribalistic nonsense and I hope it's not true. It has been said that I was prevailed upon to replace Ala with Sekyi Huge because, the party found it necessary to reward the Fantis (especially those in the Central Region) for making all the difference in last month's elections. If this was the thinking of the party hierarchy, I think that they've insulted the intelligence and dignity of the Fantis. First of all, I think the Fantis voted and voted rightly. It was their civic duty and they performed it creditably. They do not need to be rewarded for doing the right thing. In any case, even if they need a reward, it is very insulting to just pick one of their kin and make him Speaker of Parliament. I don't see how this could pass a reward. The best reward for the Central Region will be for us to rigorously pursue policies to raise the living standards in the area. Mind you, the Central Region is one of the poorest and deprived regions in Sikaman. Whoever said the best reward was too pick up an overfed, rich man from the area and make him speaker, needs to have his skull scrubbed with "Vim" and sand from the Cape Coast shores?
I have come to the conclusion that ditching Ala has done me (and the whole country) more harm than good. If for nothing at all, it has even placed the NDC in a positive light and created the impression that my party members and I do not like people who are too competent. I am tired of giving excuses and I want those who needlessly prevailed on me to ditch our illustrious son and former party chairman to explain their decision to the people of Sikaman.
For those of you who argue that I ditched Ala because I know best, I want you to bear this in mind – I don't know why I did it. I was forced to do it by Ekessu and the majority leader. Ask them for an explanation. To Ala, I say, I am sorry. I know Sikaman will miss you and your hoarse voice screaming "Order, order". If you don't mind, I will give you a different job.
Angrily yours,
J. A. Fukuor [email protected]