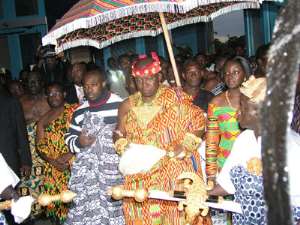 Recently His Royal Highness, the Asantehene cautioned Mr. Rawlings and the NDC to refrain from making what was termed as derogatory comments against president Kufuor and his minister. The Asantehene further alleged that when Rawlings was president his opponent accorded him all the respect he deserved.
With all due respect to the Asantehene and the Ashanti people, I consider the statements by the Ashanti chief very ridiculous and at best hypocritically. The Asantehene choose to make those remarks when President visited his palace to begin his campaign tour in the Ashanti region. Just last week the President was in the news insulting Rawlings and even calling him an "evil man".
One would have expected that the Asantehene would seize that opportunity to bring Mr. Kufuor and his NPP party to order for the betterment of all Ghanaians. Or at least, generalized his statement to include all political parties in country, but the Ashanti King decided to play a political game by telling Mr. Kufuor that he was right in insulting, It was Mr. Rawlings who is at fault.
I am not defending Rawlings and for that matter any political group that decide to go about insult others. For I am well aware that the political game of insults, is a cancer that has affected our body politics. All parities in Ghana whether NPP or NDC are guilty of insulting others, instead of debating issues.
My worry is that the Asantehene, a prominent chief who we all look up to in case of trouble have taken sides on a sensitive issue, and at the time when his neutrality is most needed for the unity and stability of the country. In fact Rawlings and the NDC have endured more insult than the NPP.
Since 1992 NPP leading members such Prof Adu-Boahene have referred to Mr. Rawlings as "Ashao Baa" meaning he is son of a prostitute. Where as the Asantehene when such statement was being made? Where was Asantehene in 2000 when at NPP rallies Rawlings and the NDC? were called thieves by leading members of the party including Mr. Kufuor?
Such a partisan stands by a prominent King will not help at all. The writers of the 1992 constitution in their wisdom that thought our Chiefs live above partisan politics. So that when the country is divided our Chiefs could serve as uniting force for all Ghanaians. Hence the constitution banned chiefs from partisan politics. Recent activities and pronouncement of the Asantehene is nothing less than a political. The Asantehene now goes to castle whenever he traveled and reports back to Mr. Kufuor when he returns from his travel. He is the only chief in Ghana who has unlimited assess to the Presidency. As if that is not enough, the Asantehene could now contract loan on behalf of this people. It's been reported recently that the Ashanti chief received loan from the IMF for certain project in Kumasi. His political stands is therefore very obvious for even passive observers of Ghanaian politics.
What Asantehene and his like should know is that Ghana is not a monarchy, and Ghana is bigger than the Ashanti region where he exercise "control". Also, the NPP and Mr. Kufuor will not rule Ghana ever; one day they will leave office. It is therefore very important that Asantehene remains neutral as he is constitutionally required. Any pronouncements he makes should not be seen as partisan and divisive, but as balance and uniting. Views expressed by the author(s) do not necessarily reflect those of GhanaHomePage.