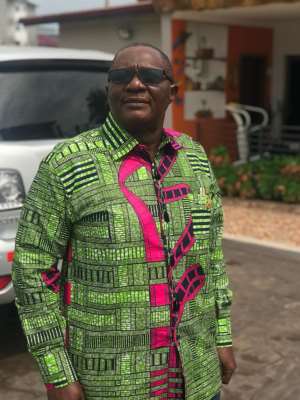 Mr. Nii Armah Ashittey , NDC National Chairman hopeful
The National Democratic Congress's (NDC) National Chairman hopeful, hon. Nii Armah Ashittey has waged into the controversy surrounding the withdrawal of four military guards attached to the office of the Speaker of Parliament, Hon. Albin Sumana Kinsford Bagbin.
He questions the rationale behind the actions taken by government and the Military High Command to deprive the third most important person of the land of the military support that he enjoins since taking office in January 2021.
The former Greater Accra Regional and Employment Minister was of the view that the Chief of Army Staff, Major General, N.P Andoh should have engaged the leadership of Parliament to deliberate on the issue before effecting the withdrawal.
"Before the withdrawal of the soldiers, couldn't the Chief of Staff have engaged the leadership of Parliament to discuss the irregularities with the deployment and build a consensus," he queries.
Mr. Ashittey further schooled the Army General that Alban Bagbin is the next most important gentleman of the land after both the President and his Vice.
"Did the Chief of Staff consider the fact that in the absence of the President and the Vice from the jurisdiction, the Speaker acts as the President and consequentially the Commander in Chief of the Armed Forces for that period?" the former MP for the Korle Klottey Constituency emphasised.
Mr. Nii Armah Ashittey was reacting to the withdrawal of all military guards attached to the Office of the Speaker of Parliament, a move that has received mixed reactions from a cross section of the Ghanaians.
In a letter signed by the Chief of Staff of the Ghana Armed Forces ( GAF) Major General N.P Andoh to Speaker Albin Bagbin said the withdrawal was necessary because the said officers were earlier attached without proper procedure.
A letter dated January 11, 2022 titled "Withdrawal of Military Personnel Attached to the office of the Rt. Hon. Speaker of Parliament" informed the Speaker of the withdrawal of the personnel.