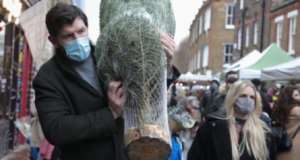 Face masks will be compulsory in shops and public transport in England from Tuesday in response to the new Omicron variant, the health secretary has said.
Sajid Javid said PCR tests for all overseas arrivals would be required "as soon as possible" once agreed by the four nations.
The measures would help to ensure that "we can all continue to enjoy Christmas with our families", he said.
Mr Javid added he had acted "swiftly" and "in a proportionate way".
The government has stopped short of extending vaccine passports in England and issuing advice to work from home, which are part of its Plan B – a contingency plan if intervention on Covid is needed to protect the NHS.
Mr Javid told Sky News the face mask rules would be implemented on Tuesday but he hoped all the new measures could be lifted again "within weeks".
And he told the BBC's Andrew Marr Show: "The reason we've set out these measures yesterday is to protect the progress we've made so we can all continue to enjoy Christmas with our families."
He said the government would take further "swift action in a proportionate way wherever necessary" but he did not think working from home guidance was needed.
While he said the reintroduction of PCR tests for travellers was waiting on approval from the four nations, the government website said it would be a requirement from 04:00 GMT on Tuesday.
The health secretary also said he was expecting the government's vaccines advisers to offer recommendations "imminently" on changes to the booster programme. "I want to make an even broader offer of vaccines, especially of boosters," he said.
At a Downing Street news conference on Saturday, the prime minister called the new measures temporary and precautionary – and said they would be reviewed in three weeks, just before most schools break up for the Christmas holidays.
Labour has called for full implementation of Plan B and for improved sick pay to encourage self-isolation.
Boris Johnson announced the restrictions after it was confirmed that two Omicron cases had been detected in Brentwood, Essex, and Nottingham . Officials said the cases were linked and connected to travel in southern Africa, where the new variant was first identified.
Mr Johnson said: "We need to slow down the spread of this variant here in the UK, because measures at the border can only ever minimise and delay the arrival of a new variant rather than stop it all together."

All the measures can do is buy time

The government's response is to test everyone coming in to the UK, isolate all Omicron contacts, ramp up boosting and bring back compulsory face masks in some public places.
Let's be clear – that will not stop more Omicron cases arriving or circulating. It's already arrived. If a virus is good at spreading then eventually it will slip through.
And it has the potential to spread here too. Cases of Covid have been climbing except for a lull over the October half term.
They are averaging at more than 40,000 a day and the R number is just above the crucial threshold of one. If Omicron can combine faster transmission with some ability to evade immunity then it too could spread.
Under the plans:
Everyone entering the UK (other than those coming from the Common Travel Area that covers the Channel Islands and Ireland) will have to take a PCR test by the end of the second day after their arrival and self-isolate until they receive a negative result
All contacts of suspected Omicron cases must self-isolate, regardless of whether or not they are fully vaccinated
Face coverings will be made compulsory in shops and on public transport – but pubs and restaurants are exempt
The health secretary has asked advisers to consider rapidly extending boosters, including reducing the gap between the second dose of the vaccine and the booster
In Scotland, Wales and Northern Ireland, face coverings are already mandatory on public transport and many indoor areas.
But retail and health workers said the rules on face masks should never have been relaxed, with shopworkers' union Usdaw accusing ministers of "flip-flopping on basic and sensible Covid measures".
"Retail staff working with the public every day are deeply worried about catching Covid-19 and the arrival of the Omicron variant is a further concern," said Usdaw's Paddy Lillis.
Carol Popplestone, chairwoman of the Royal College of Nursing, said face coverings were "something we have already called for and it should not have been a new variant that forced the prime minister to act".
One change has already been implemented. Ten countries – South Africa, Namibia, Zimbabwe, Botswana, Lesotho, Eswatini, Angola, Mozambique, Malawi and Zambia – are now on the UK's travel red list. That was applied from 04:00 GMT, meaning that until further notice any British or Irish residents arriving in the UK after recently visiting any of those countries will have to quarantine in an approved hotel for 10 days.
Residents from the countries themselves will not be allowed into the UK until the red list status changes.
The average number of daily confirmed Covid cases in the UK began rising again in early November. A further 39,567 confirmed cases were announced on Saturday.


This is a moment the government had wanted to avoid.
We've got used to restrictions in England being lifted. But for the first time in months, they're now being re-imposed in response to the new variant.
And these restrictions could have a significant impact.
For example, anyone who goes on holiday will now need to pay for a PCR test and self-isolate until they get a negative result. If Omicron spreads quickly, there could be a lot of people forced to self-isolate for 10 days as close contacts.
But the government hasn't gone for its full plan B. Masks won't be mandatory in hospitality settings in England like they are in Scotland.
People aren't being told to work from home – and there still aren't plans for vaccine passports.
But it's a sign of the uncertainty and concern in Whitehall that Boris Johnson felt he had to announce these measures.



Source: BBC