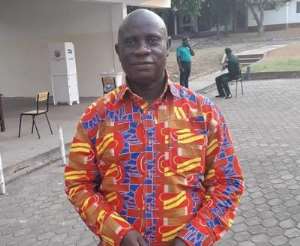 Nana Obiri Boahen
The Deputy General Secretary of the governing New Patriotic Party (NPP) Nana Obiri Boahen has said it will be a serious betrayal to the late former President if Nana Konadu Agyeman Rawlings returns to National Democratic Congress (NDC).
According to him, considering the vilification, the humiliation and barrage of insults by the activists, supporters and sympathizers of the opposition NDC on her when she left the party, it will be an insult to Jerry Rawlings if she returns to the party.
Speaking in an interview with this portal Mr. Boahen stated, "It will be difficult for NDC and Madam Konadu to reconcile, looking at the circumstances that led to Konadu's party and the attacks coming from their followers. It will be dubious for NDP and NDC to come together. It will be a betrayal of the late Jerry John Rawlings in the grave if Konadu does that. It will be a serious betrayal."
He continued, "Because, in all honesty, you cannot tell me that Konadu formed NDP without informing the husband and if you look at the history of NDP, when they are making reference to the founding members, they mention Jerry John Rawlings name. Now if Jerry John Rawlings is alive, that is a different thing, which is possible Jerry could talk to the woman and the woman will go back. But now that the man is gone, he is in the grave and the wife agreed that she will go back to NDC? With the greatest respect, it will be a stab at the back of Jerry in the grave".
Mr. Obiri Boahen added, "Look at the insults when Rawlings was alive, the vilification, the humiliation and barrage of insults by NDC activists, supporters, sympathizers poured on Konadu stating from the Fonka base in Sunyani. Some of us believe in life after death. The spirit of Jerry John Rawlings is still moving around."