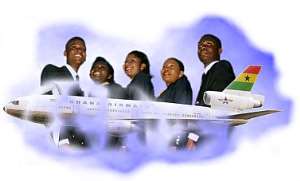 Just months after making history as the only West African carrier to serve more than one gateway to the US, Ghana Airways has again opened two direct flights to the middle east.
The inaugural flights to Dubai and Beirut form part of the airline's mission of being the dominant link between Africa and the rest of the world. On board the maiden flight were a delegation of Ghana Airways officials headed by its board chairperson, Mrs Victoria Addy, officials of the Ministry of Roads and Transport and some Ghanaian and Nigerian passengers who had travelled by road to Ghana for this inaugural flight.
In many ways, this maiden flight to Dubai is a significant achievement by the airline in terms of trade and economic co-operation between the two countries and also for the rest of Africa as pointed out by the Chief Executive, Mr. Emmanuel Quartey Jnr.
The re-opening of Ghana Airways flight to Beirut, after 30 years suspension, also falls within the developmental programme of the airline.