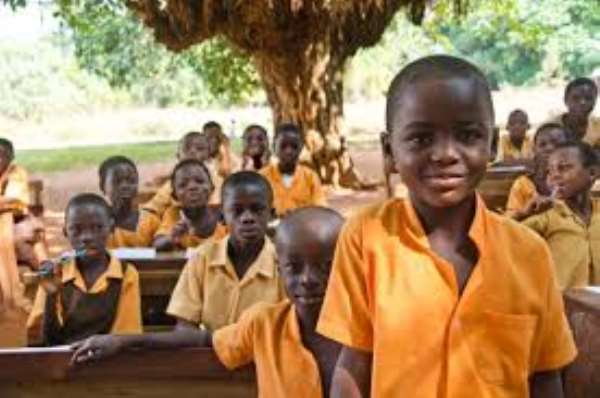 Children in primary schools in the three Districts in the Northern Region are to benefit from free supplementary learning to help boost their academic performance in schools.
The initiative is put together by the Child Learning for Development, a child-focused local organization, in partnership with the Right To Play Ghana, non-governmental organization in Tamale.
The move is part of the four-year project dubbed "Partners in Play Project (P3 Project) implemented by the Right To Play Ghana in 55 districts across three regions in Ghana: Greater Accra, Volta and the Northern regions.
Districts that are benefiting the project in the Northern Region include Savulugu, Tolon and Kumbungu.
Mr. Alhassan Haruna, the executive director of Child Learning for Development in an interview with this reporter at a sensitization exercise at Nyoglo a community in the Savulugu Municipal said the move was to complement the works of teachers with the objective of improving learning outcomes in schools.
Mr. Haruna said sixty communities comprising twenty in Savulugu, twenty in Tolon and twenty in Kumbungu with the hopes of improving performance in those communities.
"We at Child Learning for Development are currently partnering with Right to Play as an organization to sensitize parents on the need for them to always provide the basic learning needs of their kids. We are doing this alongside conducting supplementary learning for children out of school, and about twenty communities in Savulugu, twenty communities in Tolon, twenty communities in Kumbungu," he stated.
He explained that the project is in phases, and eight communities are to benefit quarterly.
"We are supposed to be doing it quarterly, this quarter we are doing it in eight communities: three in Savulugu, that is Kaanshegu, Nyoglo, and then Gushee, three in Tolon, that is Chirifoyili, Waanugu and Yipeligu and the two in Kumbungu," he stated.
He appealed to parents and guardians to support the Child Learning for Development so that the mission and objectives of the project would be achieved.
"What we want to tell parents is that we are coming to support, and as supporters, we also need them to support us, so that this supplementary learning and this sensitization that we are doing will be successful," Mr. Haruna added.
On her part, Madam Maaria Abdulai, the Girls Education Officer for the Savulugu Municipal encouraged parents to stop giving girls in school out to men for marriage.
She also appealed to parents to support the project since it is meant to help improve quality education for their wards.
"In communities such as this, parents don't know the importance of girls education, and we most at times want to sensitize them, so when we have opportunities such as this, we use it to tell them the importance of sending and keeping their girls in schools.
"My appeal to parents is for them to support Child Learning for Development, they should support the girls, they should provide their needs because they are the future leaders so that tomorrow they will become better people to take care of them, their community, the municipality and the nation as a whole," she intimated.
The School Management Committee (SMC) Chairman for the Nyoglo Primary School Issifu Zakaria and another resident, Yahaya Sumani lauded the initiative by the Child Learning for Development and thanked Right to Play and the Child Learning for Development for such initiative.
They also pledged their support to the programs that their children can also achieve higher education.
"What Child Learning for Development is bringing to us is a good thing. In our opinion, it will help us, especially our children. So we thank them for that and also pledge our full support to it. We will avail the children to learn so that they can also be like their colleagues in Tamale and other cities," they stated.