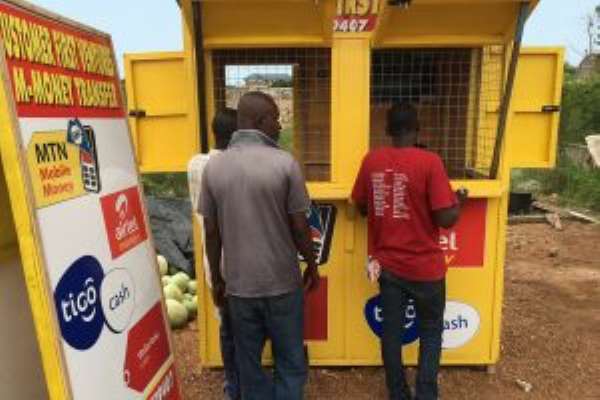 Let us lay aside the terminologies and financial jargons for now. Digitization or digitalization? What of interoperability and agile? No need for grammar now. We are taking it simple and easy, no long things – putting on the Agblobloshie language cloth for a jolly good ride.
Putting on my blue trousers and a black poka dot shirt, I headed for the road. It was a fair and beautiful morning — one of those days convenient for a gaze at the blue skies, enjoying the sound and waves of the waters while adoring the African divers trying their best in the sea. Nevertheless, since it was not a holiday nor a weekend, one must go to work.
Halfway through the journey, I reached out for my purse to patronize the plantain chips seller. Hey! There was no sight of the bag, which contained the purse. The sound of the music I was enjoying immediately became a nuisance. I packed the car to be sure the bag had not fallen under the car seat but the only thing smiling at me was my laptop bag.
How was I going to survive the day at work without my bag, more particularly my purse? Everyone knows the importance women attach to their handbags. Was this going to be an "embarrassment breakfast" and a "disgraced lunch" for me?
I quickly made a call to my husband to inform him of my bag and purse I left at home. He suggested letting one of our neighbours, who is a dispatch rider, to bring it to me at work since he was still at home. That was a good idea. However, looking around me, there was a better idea, a saving grace for the situation – my mobile phone. I boldly turned down the offer knowing that my phone will get me sorted.
Arriving at one of our branches where I had decided to work from that day, I mentioned to the branch manager that I actually came to work without my bag and purse.
He simply smiled and said, "But you have your mobile phone. That's certainly not a problem."
After setting up and ready to begin the day, I noticed one of the office helps was going to buy breakfast.
"Do you have a mobile wallet? I asked. "Yes Ma'am," was the reply.
"I am sending you GHS 10.00 for hausa koko and hot kose. Use the rest for your commission charge."
Happily, she ran faster than a deer and was back in the twinkling of an eye with some of the koko for herself. Embarrassment breakfast? Definitely not! Not only did I enjoy my koko and kose but I made someone else smile with an energetic koko breakfast. That was a simple transaction of breakfast without physical cash.
I could see "disgraced lunch" patiently waiting at the corner with her plans to steal me of my joy. I could not be bothered as I had two options in mind. To withdraw from my MOMO wallet/ Bank App or do a cash transfer either to the branch manager or any of the staff to withdraw with their ATM card. The new MTN requirement of producing identification (ID) card for MOMO withdrawal made the first option impossible as my ID was in my purse. I went for option two. So you see, there are several options available with the mobile phone. With her tail in between her legs, I could see "disgraced lunch" moving away as I enjoyed my Ewe banku and okro soup with all its amenities for the first time.
As I enjoyed my food, I could not help but ask the branch staff where the food was purchased. I was surprised to hear it was transported all the way from Dansoman to Weija via the MOMO transfer vehicle to the food vendor. While I was still wondering, they told me of the special "Acheke and Tilapia" they had ordered the previous week from Madina to Weija. Then I remembered my delicious smoked catfish I ordered from Haatso to Kasoa and the cheese, yogurt and fresh fish from Tema. How else were these business owners going to attract customers from Jerusalem, Judea and Samaria if not with the assurance of a cash transfer and MOMO all housed in a mobile device? Both parties benefit, thanks to the mobile phone.
Filled and satisfied, it was time for my important meeting. The desk owners had returned from their field rounds and needed to use their office to make some entries so I had to excuse them and share the manager's office for the remaining 2 hours. However, I needed to use his network cable for my meeting, which he would also need to carry out his transactions. Again, this was simply resolved with my mobile phone. He gave me his network cable to use while he hotspotted from my phone to get his internet connectivity. It was that simple.
Soon, it was time to call it a day. As I was entering my car, some fishmongers with fresh red and cassava fish interrupted me. I actually needed these for my weekend cooking but they are most times costly.
"I don't have enough cash on me to buy your fish," I told them.
"Madam, do not worry. We take MOMO."
This was getting interesting as the fish sellers too have moved with the global trend. My mobile phone was there again to the rescue so I helped myself with some of their goodies and headed home pondering over the day's activities without my purse.
Interestingly, two weeks later, I left home again for town. Midway my destination, I noticed this time around that I had my purse on the passenger's seat but the phone was missing from the usual location. Do I return home or continue my journey? After all, I had about GHS 150.00 and my ATM card in my purse. I could withdraw cash from the ATM, which was about 10 minutes away.
The stakes were high. With Covid-19 and working remotely being the trend, the mobile phone was an important tool. Aside the important calls, there might be important emails needing my immediate attention — needless to mention the Microsoft Teams or Zoom meetings that were compulsory. Aside these factors, the thought of having to stop and look for parking space and join a possible queue at the ATM when I could easily make direct payments online without stress was something I was not ready for. Without further thought, I made a quick U-turn home for my phone. I can do and have a normal day without my purse but definitely not without the phone. The price was going to be too expensive to pay.
Sharing my story the following day, someone wanted to know what the future holds for the financial industry. That will require a trip from Agblobloshie basic to Wall Street. For now, I need to get my hot Ga kenkey with red, green and black pepper, garnished with my red fish, StarKist, fried egg and corn beef with some grilled pork as toppings while washing it down with some freshly tapped palm wine. I know you will be wondering at the combination. Yes, this is called CONVENIENCE. That is what you get with the mobile phone.
Theodora Senaya, 2021
The writer is a chartered Banker, a member of the Institute of Directors, Ghana, a Fellow of the Chartered Institute of Leadership and Governance and an ISO 22301 Lead Implementer
Disclaimer: "The views/contents expressed in this article are the sole responsibility of the author and do not necessarily reflect those of Modern Ghana or any Organisation."