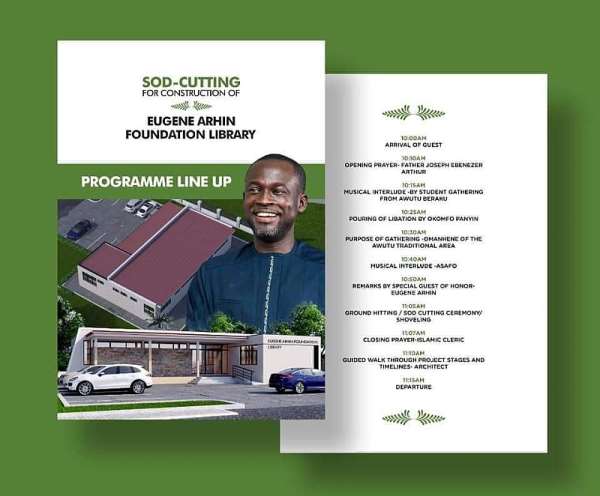 Eugene Arhin
Director of Communications
Jubilee House
Kanda-Accra.
24th April, 2021
Dear Sir,
I am forced to write to you here because all attempts to get your contact proved futile. I decided to do it here because the flyer is fast trending. It's here because I first saw the flyer here.
Giving back to society is Godly. Building educational infrastructure is commendable. These act(s) were aptly put together in a song titled, 'Blessed Is the Hand That Giveth It, Not the One That That Taketh' by late South African Reggae sensation Lucky Philip Dube. However, the source of funding for your charity projects must be a rallying point of concern to all right-thinking Ghanaians and those residents in your hometown.
I joined issues with you because you flagrantly denied the claims leveled against you by a woman identified as your better half in a lawsuit.
My beef is about your inability to bottle your sudden arrival. For it's better to flee danger and be laughed at than to face danger and be mourned.
Be ready for the products of your decisions. It's said any child that likes dancing should not run when the drums begin.
You did not pay attention when our Elders said, 'a child who is fearless is going to bring tears to his mother's eyes'.
You did not listen when the gospel according to Timothy 5:8 said, ' If anyone has no care for his family and those in his house, he is false to the faith, and is worse than one who has no faith'.
Have you made enough to go and erect an ultra-modern library? Do you now have money to construct 3 of 30 capacity libraries for the people of Bawjiase, Awutu and Senya?
Indeed, greedy eaters dig their graves with their teeth. Tame your insatiable quest for power and fame bring you pain for haste and hurry can only bear children with many regrets along the way.
I read you as recent as February 2021, deny flatly the ownership of a five (5) bedroom residential property on a two (2) plot of land lying at East-Legon in Accra; a four-storey building summing up to sixteen (16) separate flats/apartments on a parcel of land at Bubiashie, an ongoing storey building totaling sixteen (16) separate flats/apartments at Tuba-Weija in Accra, another Storey building erected on a land at Teshie and a residential property situate at AU village at La among other valuable things.
Have you gathered enough now? Have you amassed enough to fund your projects? Because according to Abraham Maslow's hierarchy of needs theory. Maslow proposed and prioritized basic needs over and above everything.
Can you go building libraries if you have no place to rest your head?
Take note, that while we can be or have anything we want, the same is not true for EVERYTHING we want.
We are suffering because of greed, also known as avarice, covetousness, or cupidity. I say to you that desire in itself is not wrong. It is excessive and insatiable desire that we need to avoid.
I pray God may open your eyes to see that which I am drawing your attention to.
Don't put sand in your gari or like a chameleon, you take your hue and the colour of your moral character, from those around you?