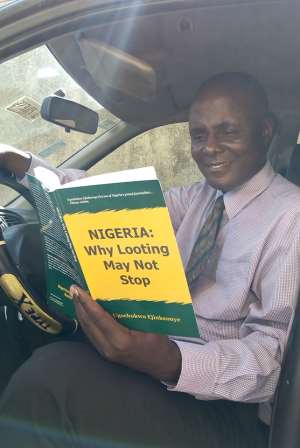 Ugochukwu Ejinkeonye
INTERVIEW
Mr. Emmanuel Aloysius, a graduate of Mathematics and young entrepreneur founded E-Campus Television in 2013. In this interview with Nigerian journalist and writer, UGOCHUKWU EJINKEONYE, he shares the story of the organization and where he hopes to see it in the next few years…
Excerpts:


*Emmanuel Aloysius
What is the Name of this your media outfit and when did the idea of setting up a campus-based television programme occur to you?
Thank you very much. The name is E-Campus Television. I must explain something here. I conceived the idea in 2011. Then it was called The Campus Voice and later we decide to call it "The Campus Television". In the course of getting the outfit registered in 2017, we settled for E-Campus Television. I was an undergraduate then.
When exactly did you commence operations?
I came back to school for the second semester in 2013, April to be precise. I called some of my colleagues and friends in school and shared my dream with them. Some agreed to be part of the vision. We shot out first episode on June 17, 2013 at the Tai Solarin University of Education (TASUED) where I was studying at that time. Soon, the students began to know about our vision and some of them developed the interest to be part of it. I must tell you, in all, it was God that made it possible.
How many programmes are you currently featuring on your channel?
As we began to grow, there was need to spread so we can affect not only our immediate environment. We, therefore, decided to build various platforms online. These are:
Instagram: ecampustv
Twitter: tcv_show
Facebook: Campus Television
Youtube Channel: E-Campus Television
Campus-based programmes and shows are aired on our platform. We have, for instance, "Me 'n' U on Campus with Convy." This is a one-on-one discussion programme hosted on various campuses. We also have "Campus Kruiz" which is an entertainment show based in Ghana. We are equally hosting "Campus Issues" where issues that pertain to campuses are thoroughly analysed. On this programme, we feature very knowledgeable young people, in fact, experts, who come on the programme to dissect these issues and proffer solutions for the enlightenment of students. We also have ours "Friends Dialogue" and other programmes like Vox Pop, interviews and other interesting events on campus.

Apart from broadcasting, what other programmes do you embark upon?
We knew that our vision will not be achieved through broadcasting alone. We saw the need to organise programmes in the various higher institutions. Instead of waiting for them to come to us, we decided to go to them.
Our vision is to be a platform that will lift students on campus out of the wall of hopeless and unrealistic dreams and help them to develop confidence in themslves, build assurance and secure future. The programme STANDOUT was, therefore, crafted to attend to that. Standout is a periodic event held on various campuses. It began last year, 2018 with our first two outings at the University of Nigeria, Nsukka (UNN) on July 7, 2018 and YABATECH on October, 12, 2018, with the theme, Precision...Making Your Life Intentionally.
At Standout, we motivate the students on campus to look beyond the four walls of the higher institutions and develop their innate abilities to survive in our present society. A lot was achieved at Standout 2018. For instance, an award was given, and students were given the platform to display their talents. Those that pitched their ideas were given grant offers. Standout 2019 promises to bigger and better. We will be touring the following institution with the theme: Fantastic Four. The institutions are Tai Solarin University of Education (TASUED), Ogun State, Moshood Abiola Polytechnic, Abeokuta, University of Jos, Nasarawa Polytechnic, Pentecost University College Assembly - PUCA, Accra, Ghana.
We have fourteen young, dynamic, resourceful speakers that feature in this programme. They are: Olamide Akintolu, Okafor Val, Ebenezer Chinang, Ifunanya Ibeh, Jeffery Ehikioya, Babs Michael, Ogundunkun Temitope, Samson Omoniyi, Ife Onaduja,Stepehen Adedigba,James Joshua, Matilda Shoneyin, Ugochi Millicent and Chinedu Okaludo. We are going to tour round as we make our vision come through in Standout 2019.

How many people are working with you now and how were you able to assemble them.
To assemble the people was by the grace and help of God. We have about 25 people working with the organization, some as correspondents in their various institutions and volunteers. Like I earlier said, I started talking to friends and colleagues about the idea and vision and quite a number of them embraced it.
The following picked interest and we began: Ifelaja, Bamidele, Manasseh, Gbenga, Gafari, Ibukun, Femi, Mide, Frieda, Uche,Ugochi, Lawrence and Abel. Later we decided to have regional heads. Chibueze Chioma is there for the Eastern region, Chinedu Okaludo, assisted by Nzube Robert, heads the Niger Delta region from Benin; Bamidele Samuel and Gafari Olamilekan for the Western region while Joshua James runs the northern region for us. Later, others came in, Chigozie, Judith, Convy, Valentine, Pastor Joseph, Uzor and other volunteers. Everyone believed in the vision and we all supported it financially and otherwise.
The organization began to develop in ideas and structure. We needed to meet up with the current times so that we can satisfy our potential clients (students). More programmes were generated and there was need for us to register the organization. We began internal restructuring and so had to put in place the executive members. These include the media director, programme director, seminar and curriculum director, financial director, ICT administrator, Presenters, Camera Operators, Marketing and business, Production Manager, Technical Manager, Content, script writer and secretary. We all work together to make this vision a reality.

How can you assess your journey so far?
I give all thanks to God. It has not been easy. Thank God for those He brought around me. In June 2013, we began with a small picture in our mind but now we have various programmes created, produced and organized by E-campus Television showing on our Youtube Channel and other online platforms.
E-Campus Television is recognised in various institutions and campus related organizations in Nigeria and other parts of Africa.
We have partners and board of advisers in various spheres of life. I can say with boldness that we are progressing. I appreciate God for it. I will love to appreciate few individuals that have stood by us. Mr Paul Igwe, Pastor Mike Ihenacho, Mr Babs Michael, Mr Tokunbo Ojekunle, Honourable Adenuga, Pastor Amos Yongo, Barrister Mike Oyagah, Mr Alex Nwahiri, Watchman Media team, Pastor Poju, my capacity development coach, Miss Ebere, my printer, Miss Ruth Agu who helps to edit our work and encourage us, Pastor Emeka Onaoha, Chukwunwike Nwakile (Elder), Chinedu Ekeh, Alex Igwe and the entire Whitestone Cinema staff, Marvy Health Matters staff, Standout partners all over the world and E-Campus Television fans. Thank you all for your support and encouragement. I will not forget my family, God bless you all.
Can you look into the future and tell me where you expect to see this your media outfit in the next ten years.
In one sentence, I will say that in the next ten years we hope to see E-Campus Television become a household campus television platform in the world. Thank you.
Friday, June 7, 2019
----------------------------
E-Campus Television Contacts:
Email: [email protected]
Phone: 234-708-959-9985
*Called from: https://ugowrite.blogspot.com/2019/06/e-campus-television-is-now-known-in.html