Nana Akufo-Addo Needs to Fight Corruption All-Out !!!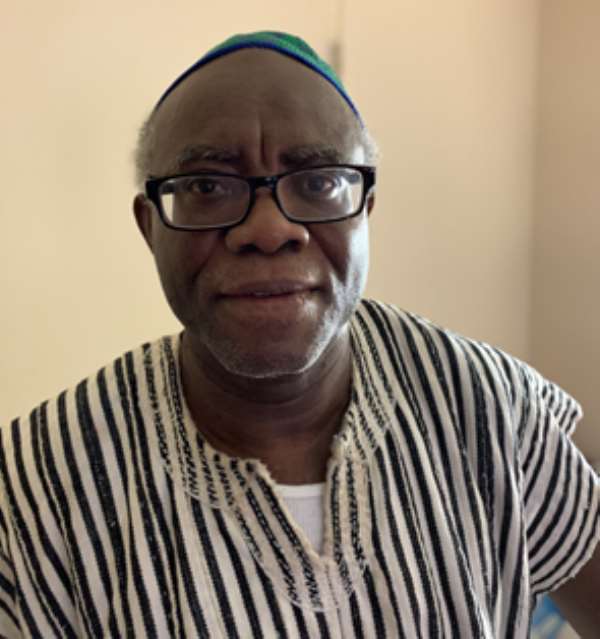 I have had this piece of news item lying on my desk for quite some time now. It is titled "Multimedia NLA Documentary Politically Motivated – CVM Founder" (Modernghana.com 11/19/20), in which Mr. Razak Kojo Opoku, Founding-President of the Concerned Voters' Movement (CVM), makes the very serious claim and allegation that Mr. Kwasi Twum, Chief Executive Officer (CEO) of the Multimedia Group, parent company of Joy News, Joy-FM and other sister stations, had been paid huge sums of money by Ghana's main opposition National Democratic Congress (NDC) to orchestrate a massive propaganda campaign blitz purportedly predicated on the portrayal of the Akufo-Addo-led New Patriotic Party (NPP) government as a pathological and thoroughgoing corrupt political machine and establishment, in curious and paradoxical hopes of having former President John "European Airbus Payola" Dramani Mahama returned to power via the 2020 Presidential Election and, in effect, launch a vicious revisitation of the scourge of Dumsor, once more, on the Ghanaian people.
In the opinion piece that I have on my desk before me, Mr. Razak Opoku has a letter attached which is addressed to Mr. Samson Lardy Anyenini, the Joy-News' flagship current affairs' award-winning broadcaster, who also happens to be a lawyer for the Multimedia Group, in which lawyers for Mr. Kofi Osei-Ameyaw – I suppose the latter is/was the Executive-Director of the National Lotteries Authority (NLA), warns the operatives of the Multimedia Group against the latter's intended video broadcast of a documentary titled "Joy News Uncovers Another Scandal," which purported to have uncovered some procurement law breaches at the NLA, that may very well have cost the Ghanaian taxpayer at least $ 10 Million (USD) in lost revenue. A curious investigative claim because the subtext of the alleged Joy News' propaganda strafing appeared to impute that the Akufo-Addo Administration was relatively far more corrupt than the previous Mahama-led regime of the National Democratic Congress.
This opinion piece seemed very credible to me because as I have come to envisage the same, like right here in the United States of America, the media business is one that almost exclusively runs on bottom-line principles, that is, the profit-and-loss margin or ledger, rather than any well-founded ethical principles. As well, having been personally ostracized by most of the mainstream Ghanaian media, courtesy of NDC propaganda spiels and payoffs, I fully appreciate where the Founder-President of the Concerned Voters' Movement is coming from. Like yours truly, the CVM Civil Society Organization is passionately and unabashedly pro-New Patriotic Party. Which, of course, has led to a flurry of grossly misguided charges and accusations that yours truly woefully lacks an acceptable sense of professional objectivity and fair play, when it comes to his coverage or writings on the affairs and politics of the country's two major parties, namely, the ruling New Patriotic Party and the opposition National Democratic Congress.
The fact of the matter, though, is that I do not make any income or living from my avocational media fare or contribution to Ghana's present political culture. I have not asked to be paid by anyone, so it is quite fair and reasonable for my audience or readers to expect that I would hew to my own discretionary choices of subject and ideological proclivities or lines of reasoning. I also firmly believe that the Jerry John Rawlings-founded National Democratic Congress is a veritable terrorist organization. Which is also why I find it to be unpardonably insulting for a reader or critic to expect that I would be "objective" in those of my writeups with a primary focus on issues verging on the affairs of the National Democratic Congress. One thing, however, is clear, and it is the all-too-verifiable fact that, by and large, the Ghanaian media is far less democratic and tolerant than the general climate of Ghana's political culture, except, of course, when it comes to the Mafia-like modus operandi of the Mahama-led National Democratic Congress.
In recent months, nearly every NDC stalwart who has had a reasonable cause to commend President Addo Dankwa Akufo-Addo for the resonant success of his development policies has been either sidelined or promptly and summarily suspended from active participation in the party's affairs and activities. The latest of such political casualties or fatalities, metaphorically speaking, of course, is Mr. Samuel Koku S. Anyidoho, the former Deputy General-Secretary of the National Democratic Congress. Ultimately, regardless of the unsavory biases of any mainstream media establishment, what matters here the most is the imperative necessity for President Akufo-Addo to crack the proverbial whip vis-à-vis the unbearably high spate of official corruption in the country. "The Little Man from Kyebi" vigorously campaigned on an anticorruption national development agenda.
Nana Akufo-Addo needs to be seen to be more interested in fighting this foremost bane of Ghana's socioeconomic development than each and every one of his predecessors. Even the most inveterate media opponent or foe of Nana Akufo-Addo will not succeed in damaging the President's image and hard-earned reputation as a fierce fighter of official corruption, if Nana Akufo-Addo decides to put his figurative money where his mouth is.
*Visit my blog at: KwameOkoampaAhoofeJr
By Kwame Okoampa-Ahoofe, Jr., PhD
English Department, SUNY-Nassau
Garden City, New York
February 20, 2021
E-mail: [email protected]